Join our VIP list to get first access to our LGBT+ travel deals, special offers, news, recommendations and advice. Joining the VIP list is simple and only costs $5. It's a one-time fee and you will forever become a Two Bad Tourists VIP.
Cool travel stuff, direct to your inbox, plus much, much more!
Hey there! We're Two Bad Tourists. Welcome to Our Blog.
We're David and Auston, but you can call us Two Bad Tourists. We started this blog as a resource for LGBT+ travelers featuring international gay-friendly destinations, festivals and events. We aim to inspire LGBT+ people to explore the world wherever they might want to go while offering travel advice we've picked up after 10+ years on the road. You can find travel tips as well as insider guides featuring recommendations on dining, gay nightlife, hotels, tours, sightseeing and more. We also offer our own gay group trips that we host ourselves and you're invited to join!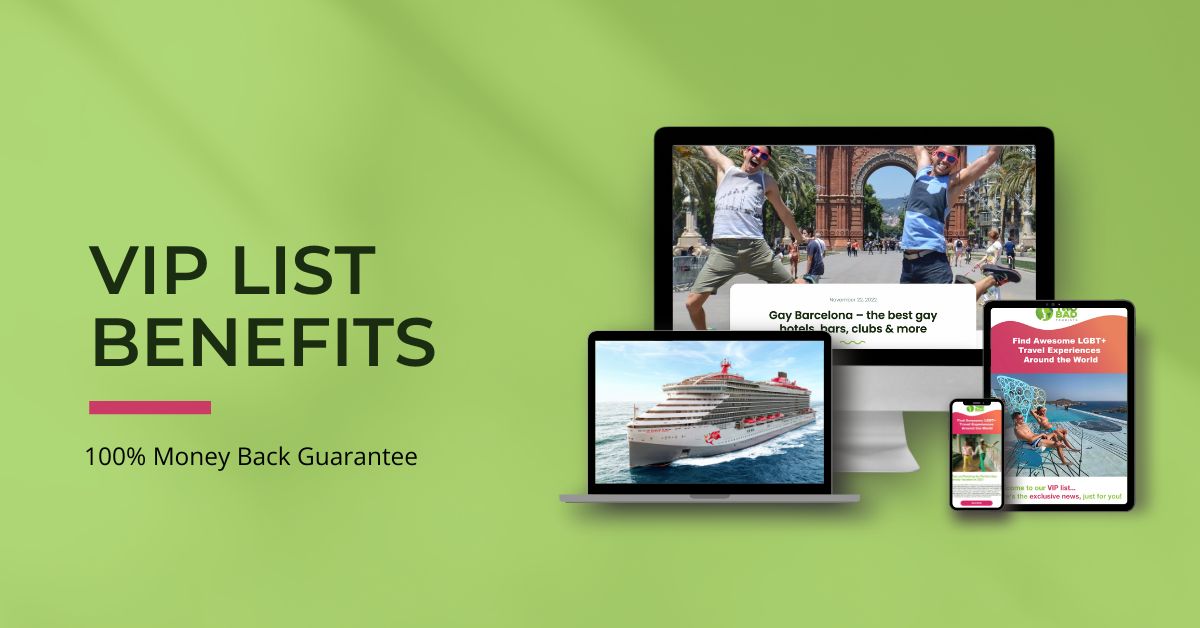 What Are the VIP List Benefits?
Entry into our giveaway for a free Mediterranean gay group cruise for 2 people in Fall 2024, valued at $4,000+
Weekly email updates with the latest recommendations and tips on LGBT+ travel
Access to more 50+ online and downloadable Gay City Guides
Unique recommendations and travel guides for solo travelers
Curated recommendations to the best gay hotels, gay bars and clubs, gay tours, sightseeing & LGBT+ events
Access to our biweekly LGBT+ travel podcast which is streamed live on Facebook, Twitter & YouTube
Direct access to email us with your travel questions if you need advice
VIPs always get first access to our travel deals and discounts valued at up to $900
100% Money-Back Guarantee
If you're not satisfied with your purchase and the value provided by being a Two Bad Tourists VIP, we'll refund your money with no questions asked. We're confident that avid LGBT+ travelers will find huge value from our VIP list so we have no problem giving you peace of mind with the money-back guarantee. Should you wish to cancel your subscription and get your money back, just send us a message and we'll provide you with a refund of 100% of the purchase price.
What Do Our Subscribers Say About Us?
How Do I Sign Up for the VIP List?
Click below to join our VIP list. Simply pay the $5 fee and you'll be added immediately!