It's hard to imagine the world before Airbnb. Since its conception in 2008 the name has become synonymous with renting out property to guests traveling to… well, everywhere. 'Air Bed and Breakfasts' – yes, that's what that stands for – rose to popularity largely due to the benefits they have over their hotel/hostel counterparts.
There's the obvious boon of them being cheaper, both in terms of booking and the money saved from eating out by having access to a kitchen. They're often more spacious – especially if renting a whole apartment – and have that more personalized authentic touch to them, only found from entering someone else's home. Airbnbs are also generally more well-suited to long-term rentals, with discounts for weekly or even monthly bookings. Finally, there's the invaluable personalized advice one often receives from your local savvy host.
As a thriving capital city, Madrid has a diverse range of abodes ready to rent through Airbnb. Madrid is one of the most welcoming cities in the world for the LGBTQ+ community – which is fortunate when searching for accommodation since Airbnb no longer has the option of filtering for gay-friendly places, or even searching for "gay" via keywords. This has led to many gay tourists switching to Misterb&b – the LGBTQ+ specific version – but there's still more variety to be found on Airbnb and they're properties are usually cheaper.
For Madrid, we've done all the hard work for you and pulled out ten of the most highly rated "super hosted" Airbnbs in the most gay-friendly parts of the city.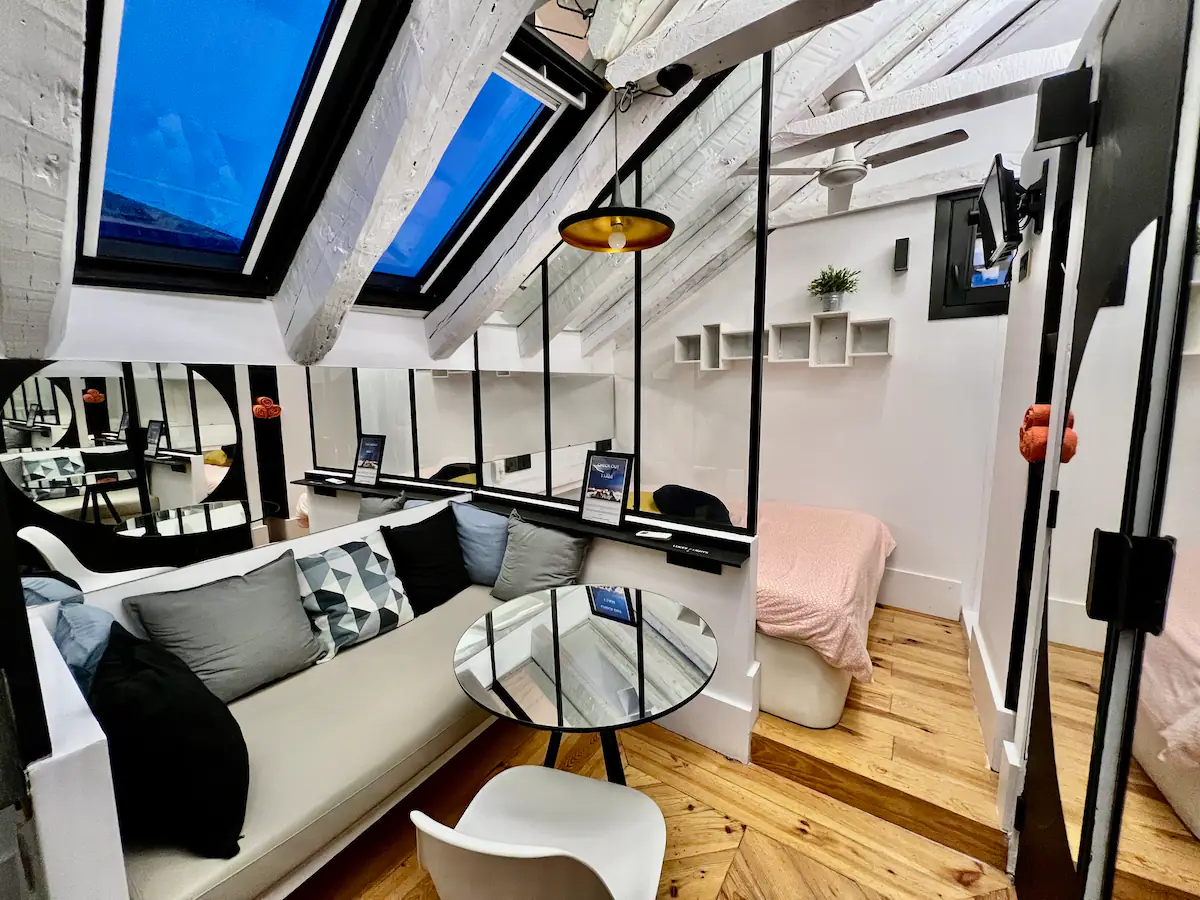 Cozy Chueca Studio 
Chueca is Madrid's official gayborhood and naturally the best place to find LGBTQ+ friendly Airbnbs for those who will take nothing more than being in the epicenter of Madrid's gay scene.
This five-star rated accommodation is a trendy studio all to yourself, right in the beating gay heart of the city. The décor of a place can make a huge difference to the feel of your stay – the striking black and white interior, giving it a futuristic quality in contrast to the hippie vibes of a lot of other Airbnbs nearby. The look fits for vibrant Chueca and the flat is an easy stagger home from a night out on the town. It is, however, tucked away enough on a top floor – with sky windows – to provide respite from the busy streets below – There's one bed connected to the living room area, giving it that couple's retreat feel – as does the huge sofa to cuddle up on in front of a wide screen TV. The apartment comes in at around 80 euros a night with a minimum stay of two nights.
Studio 'Chic' in Chueca 
This gorgeous studio apartment may not be the cheapest option on the list – at between 75 to 90 euros a night – but you pay for quality as the loft-style suite is newly renovated, spacious, and even has a small Spanish-looking balcony overlooking the street. The kitchen and living room are one of the same, but the space is well-used, minimalist in its feel and has all the facilities you could need. The extremely comfy double bed is separated from the living via an illuminated step, but there's also a sofa bed, should you want to squeeze in a third. Everything is on your doorstep, from the bars and restaurants of Chueca to Gran Via and its tourist attractions. The studio has a 4-night minimum stay and is ideal for a week-long holiday.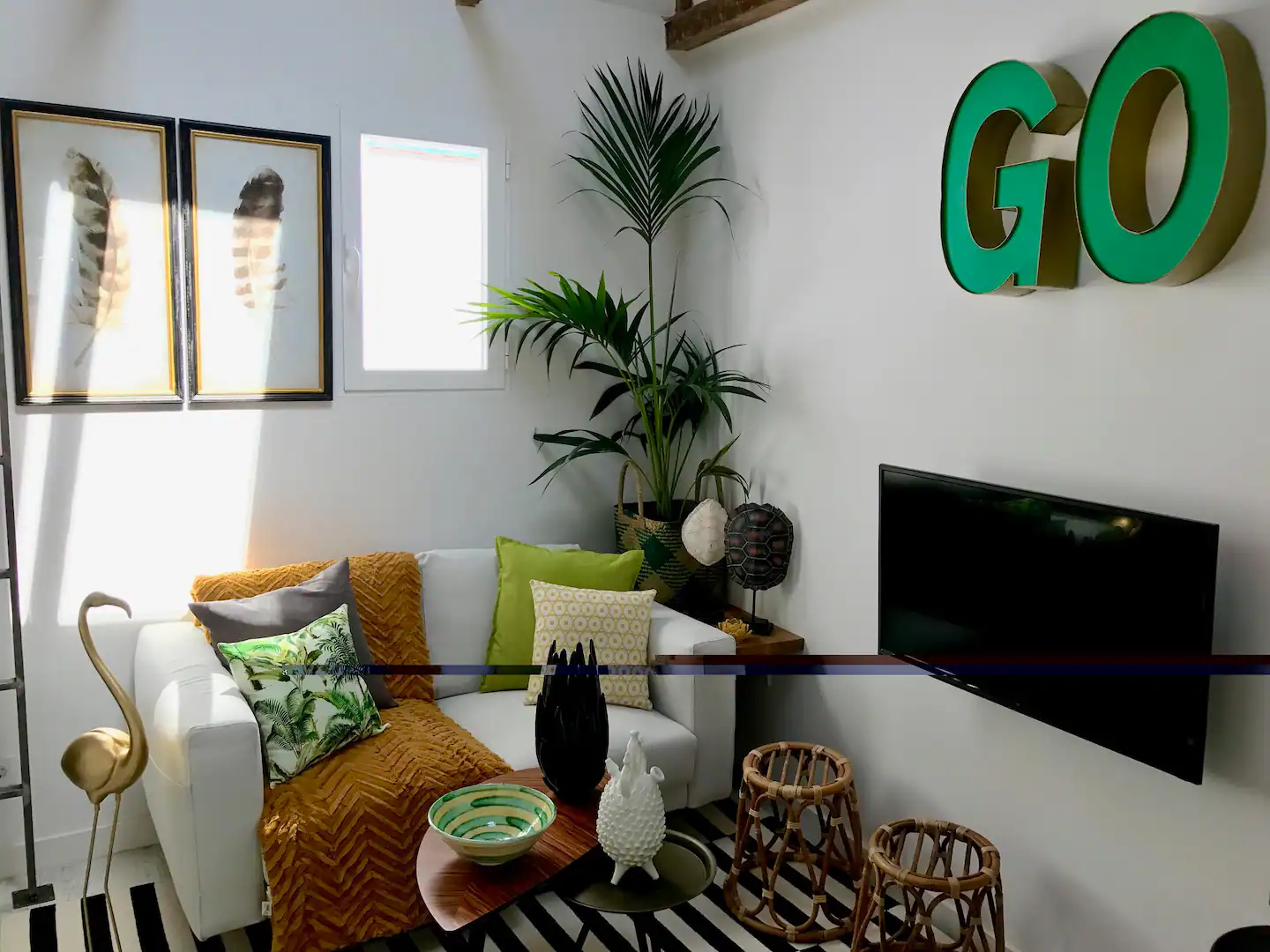 Super Chic and Bright Apartment in Tribunal 
Madrid's gay scene is so bustling that a mere one area can't contain it. As a result, many LGBTQ+ people have expanded out into Malasaña – Chueca's trendy neighboring "barrio" – to the point that it might as well all be one area. Malasaña, however, is more mixed and has a wide range of its own bars and restaurants, each infused with their own unique character.
This small but charming apartment sits snugly between Chueca and Malasaña, close to the Tribunal metro stop. It's 55 – 80 euro a night and you get the whole apartment to yourselves with a minimum stay of three nights. Chic is a word you'll hear a lot to describe Airbnbs, but this apartment embodies the concept perfectly. The rooms have a natural and – dare I say – hipster feel to them – decorated in whites and greens and further punctuated by plants and tasteful artwork. There's a living room, kitchen, bathroom and two bedrooms – the second reachable by a ladder, and is there anything more hipster than a room up a ladder?
Spacious Private Room Center Metro
Renting a room, rather than a whole apartment, or studio, can greatly reduce costs – especially for long term stays – and give you access to your host first hand for advice about the city. This room in a lovely apartment is one of the best in the city and once more right in Chueca – close to Plaza de Chueca itself.
The room has a large comfortable double bed, is spacious, light, modern and has a ceiling fan – rather mandatory for the infamously hot Madrid summers. The shared kitchen and bathroom have all the facilities necessary, and your room is lockable with your own key to ensure your privacy.  The host – Caridad – speaks fluent English, gives her guests great recommendations, has good vibes and is  – of course – LGBTQ+ friendly. The room is just 40 – 60 euros a night with discounts for longer stays.
Charming Room in the Middle of Madrid 
A bargain at only 40 euros a night for a five star experience, this single room option found in a spacious apartment in Malasaña has a double bed, but also a "chill out zone" reachable by ladder – a seemingly recurring theme in Madrid – which has its own single bed if there are two of you and you don't fancy sharing the other bed. The space is quiet, comfortable, modern looking and painted a soothing sky blue. You have access to a living room, kitchen and bathroom, with towels and toiletries provided. Victor is a great host and the sort who likes to keep himself to himself to give his guests the space they need.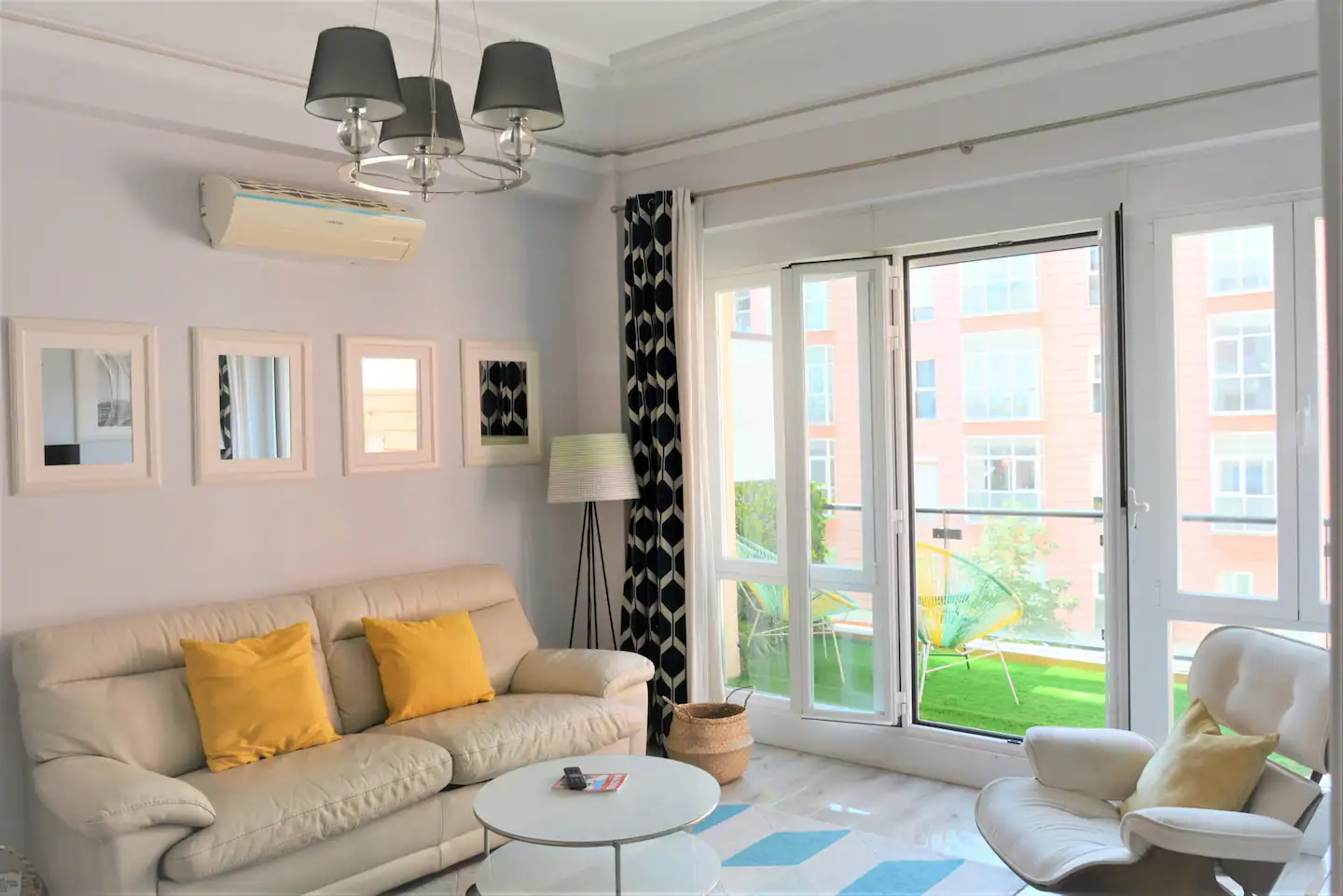 City Center with Terrace Gran Via
Traveling in a group of 4? How about renting this large rental unit with terrace on Fuencarral, a principal shopping street dividing Chueca and Malasaña.
The apartment is a generous 150m², fully air conditioned, stylish and modern with all the amenities one could possibly want – including the nice touch of bed clothes. However, it is the huge terrace – at 12 square meters – which is its key selling point. Accessible from the bedrooms and perfect for enjoying your meals – or drinks – while people watching on the streets below.
Miguel Angel is a super host – literally- and he goes that extra step by greeting his guests with a basket of fruit, yogurts, chocolate and cookies. He'll then provide useful recommendations before leaving you to your own devices. At around 100 euros, it's a bargain, with a two-night minimum stay.  This is a popular one – which speaks to the quality – so be sure to book a few months in advance to avoid disappointment.
Atocha Bright Exterior Apartment 
Everything within the center of Madrid is walkable, so you need not stay right in Chueca/Malasaña. Atocha is Madrid's equivalent to Grand Central Station and the location of the city's main museums. This large apartment in Atocha has the additional benefit of being just a few doors away from Madrid's only officially gay hotel, the Axel Hotel – great if you want to mix with those staying in the hotel, either by visiting their sky bar or by providing a guest there some "room service" courtesy of Grindr. More trendy cafés, restaurants and cocktail bars can be found in the adjacent barrio de las Letras – famous for the words of poets carved into its streets.
The flat itself has a homely, authentically Spanish vibe to it, with two mini balconies overlooking the busy streets below. There are two large bedrooms perfect for two couples sharing the price of around 100 to 120 euros a night for the whole flat – with the minimum stay being six nights.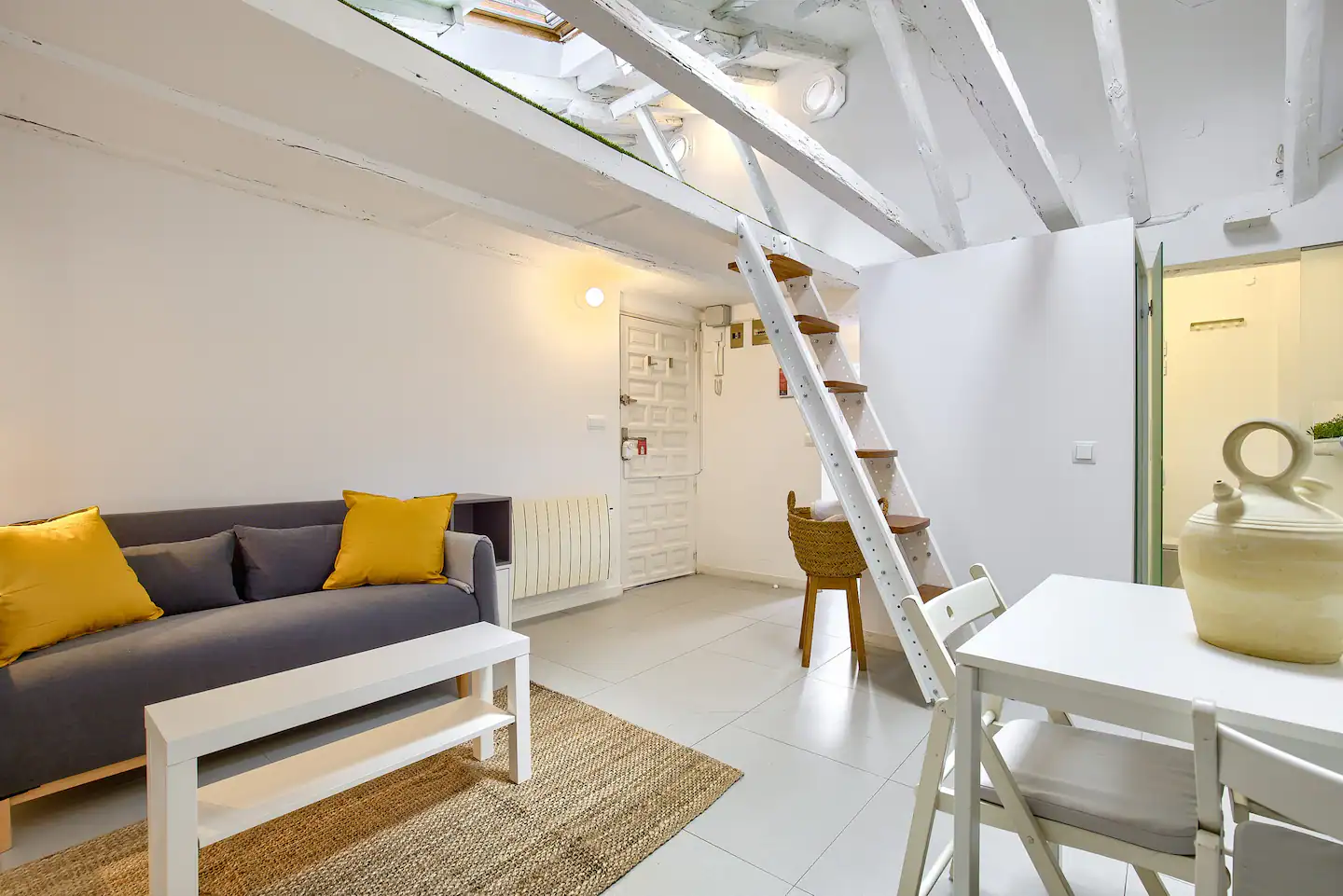 Charming Latina Center
Other than Chueca and Malasaña the unofficial second gay zone is made up of La Latina and Lavapies – two areas still in the center of Madrid just shy of Atocha. La Latina has a more authentic Spanish townlike feel to it, where churches and trendy bars blend effortlessly together and locals drink tinto de verano on busy terraces. In contrast, there's the more bohemian multicultural Lavapies – a melting pot of cultures with bars and restaurants from around the world and a favorite among the more alternative queer community.
Located between the two is a charming loft rental unit, in a part famous for its Rastro market every Sunday – Madrid's most famous flea market and a must visit for those who like "stuff". The loft apartment is spacious with sky windows keeping it well-lit. Despite its minimalistic style, it is fully equipped with what you'd expect – and even includes free toiletries like a hotel. The upper area is where you'll find the cozy bedroom area, connected by – yes, you guessed it – a ladder. Rated five stars on Airbnb, the space is rentable at a very reasonable 60 euros a night with a three-day minimum stay.
Private Room in La Latina 
Those who take a liking to the queerer bohemian vibes of La Latina and Lavapies, but on more of a budget, might consider this comfortable – highly rated – single room going for just 30-40 euros a night with no minimum stay restrictions. The entire flat is modern, clean, spacious and light. Your bedroom has a comfortable single bed, and once more locks for privacy. The host, Rosa, comes well recommended and is helpful, attentive, speaks English and welcoming to all – including the LGBTQ+ community.
A Gay Friendly Place in a Quiet Neighborhood 
You need not stay in the center to enjoy Madrid. In fact, it can be a welcome respite to stay in a quiet place outside of the city's hustle and bustle – especially if you visit during Pride week.  This room is found in La Elipa – just three minutes from the metro – and is one of the few Airbnbs in Madrid to actually put 'gay-friendly' in its description. Both the room and the flat in general are commodious, modern and decorated with cool art. The room costs only 60 euros a night with a two-night minimum stay and the host, Delmar, can give lots of good advice for the visiting LGBTQ+ traveler looking to make the most out of their stay in the undeniably gay-friendly city of Madrid.