We had the opportunity to visit Israel with OUTstanding Travel and we jumped at the chance to visit this tiny country situated in the Middle East. As it turned out, it was one of the best trips and travel experiences. Israel is such a small, yet diverse country with a complicated history that it provides a travel experience not found anywhere else in the world.
OUTstanding Travel vets all hotels, tours, experiences, restaurants and more to offer you a high-quality and gay-friendly experience that you'll never forget. This is particularly important when visiting destinations like Egypt, Morocco and Jordan, which are not known for being particularly welcoming to LGBT+ people compared to Israel and other western countries.
About OUTstanding Travel
OUTstanding Travel was founded in 2015 and they offer everything from gay bus tours to custom trips and tours in Israel, Jordan, Morocco, Greece and Egypt. During the summer they offer gay bus trips every weekend to the Dead Sea, Jerusalem and several other destinations. They also offer customized travel services and packages if you're looking for a full-service tour operator. During Tel Aviv pride, they run the bus tours on a daily basis. You can see from their phenomenal 5-star reviews on TripAdvisor that they are ranked among the top tours in all of Israel.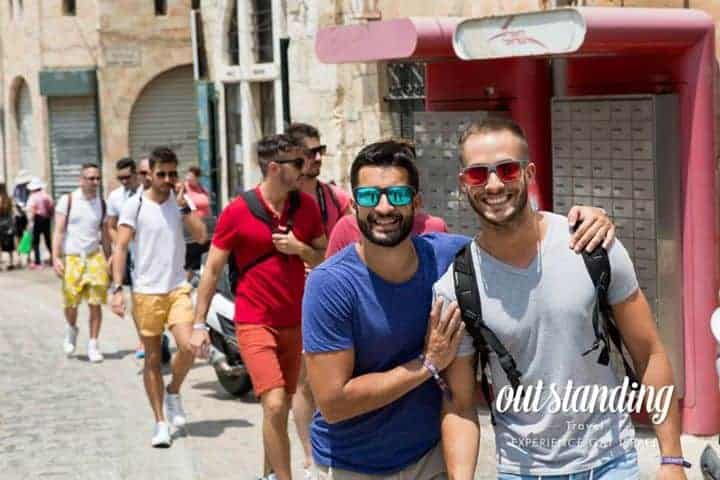 Read Reviews from Past Travelers
Explore Trips from OUTstanding Travel
OUTstanding Travel offers trips to Israel, Jordan, Morocco, Greece and Egypt. Take a look at some more of their tours to see what interests you the most. Explore all trips from OUTstanding Travel →
Looking for Another Gay Group Trip?
We recommend a few different tour operators that do gay group trips and they all offer great itineraries and experiences that you'll surely love and won't forget. Explore all gay group tours →
Image credits: OUTstanding Travel
Note: This information is created in collaboration OUTstanding Travel, however, rest assured all opinions are 100% our own and we would never sacrifice our integrity for a sponsorship. Some of these links may also be affiliates which means using them won't cost you any extra but we do receive a small commission for each referral. You're not obligated to use them but we appreciate it if you do. Thanks in advance for supporting this site if you choose to use our link.