Cape Town is THE most beautiful city in the world! There, I said it. Maybe you disagree with me, but it's impossible to deny that it at least rates highly among the list of contenders.
Nestled snugly on the Southwestern coast of Africa with the Atlantic ocean before it and the iconic visage of Table Mountain behind, Cape Town is visual perfection. The climate is equally perfect, being neither too hot in the summer nor too cold in the winter, and it has everything you could want in a city – being a smorgasbord of culture evidenced through its diverse mix of restaurants, bars, museums and parks. The sea and mountain offer opportunities for any adventure sports you can imagine and the city's nightlife – and gay scene – is lively to say the least. Cape Town is often lovingly referred to as 'the Mother City', both due to it being the first city in South Africa and the homely feeling it exudes – welcoming all with open arms.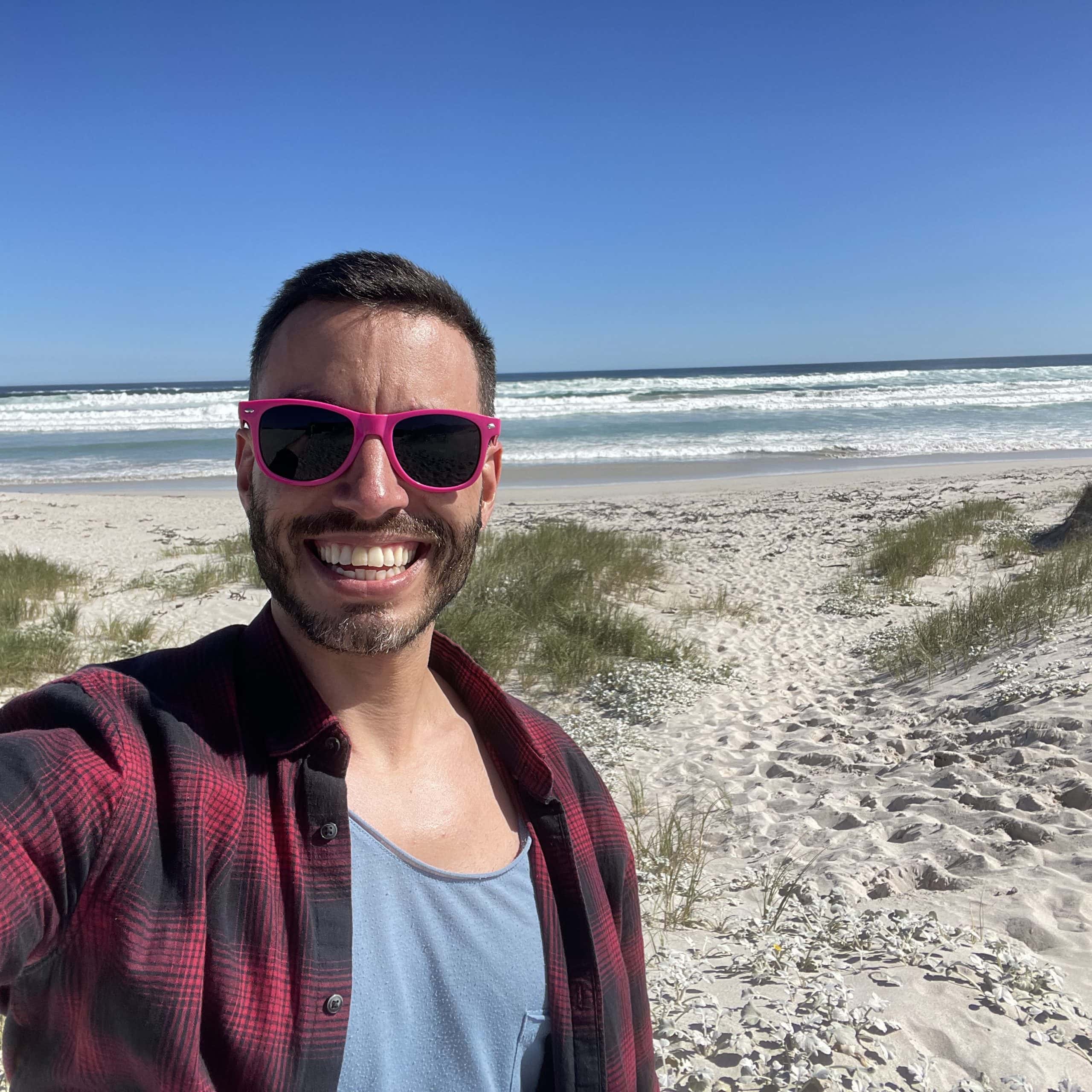 During my trip to there, I met Mandima Qunta (head of The FAM, a full-service creative media and entertainment agency whose primary focus is social impact and change) who referred to South Africa as "a third world country with first world ideologies" and this rings especially true for Cape Town as – due to its rich and complex history – it's a diverse melting pot of cultures and ethnicities clearly caught up in the winds of progress. The shadow of Apartheid hangs heavily over South Africa, but Cape Town's resounding philosophy is progression into becoming a bastion of tolerance within the world. Part of that means it has earned a second moniker as the 'queer capital of Africa' leading  many an LGBTQ+ traveler to add Cape Town to their bucket list. 
Let's look at the 5 most prominent types who come to Africa's Mother City:
Gay Adventurers and Thrill Seekers
Queer people as a whole have never been averse to taking risks to get those endorphins flowing and Cape Town has a lot to offer the thrill-seeking type.
Table Mountain naturally lends itself to adventure sports such as abseiling and rock climbing. Active types can even take the hike up the mountain, should you wish to forgo the – lazier – cable car option. Hiking is also a way for nature lovers to see the more than 2,200 plant species that grow along the trails of Table Mountain – some of which are completely unique to the region. 
From the mountains to the waters, Cape Town is also famous for shark cage diving. More up my alley, I dived into this one with White Shark Projects and found they were very informative, knowledgeable, and friendly. They also made sure we felt safe, were well fed, and most importantly – that we had a good time. The staff was very open and forthcoming while explaining all about their conservation efforts, environmental impact, and regulations. It was one of the top experiences I had while in Cape Town.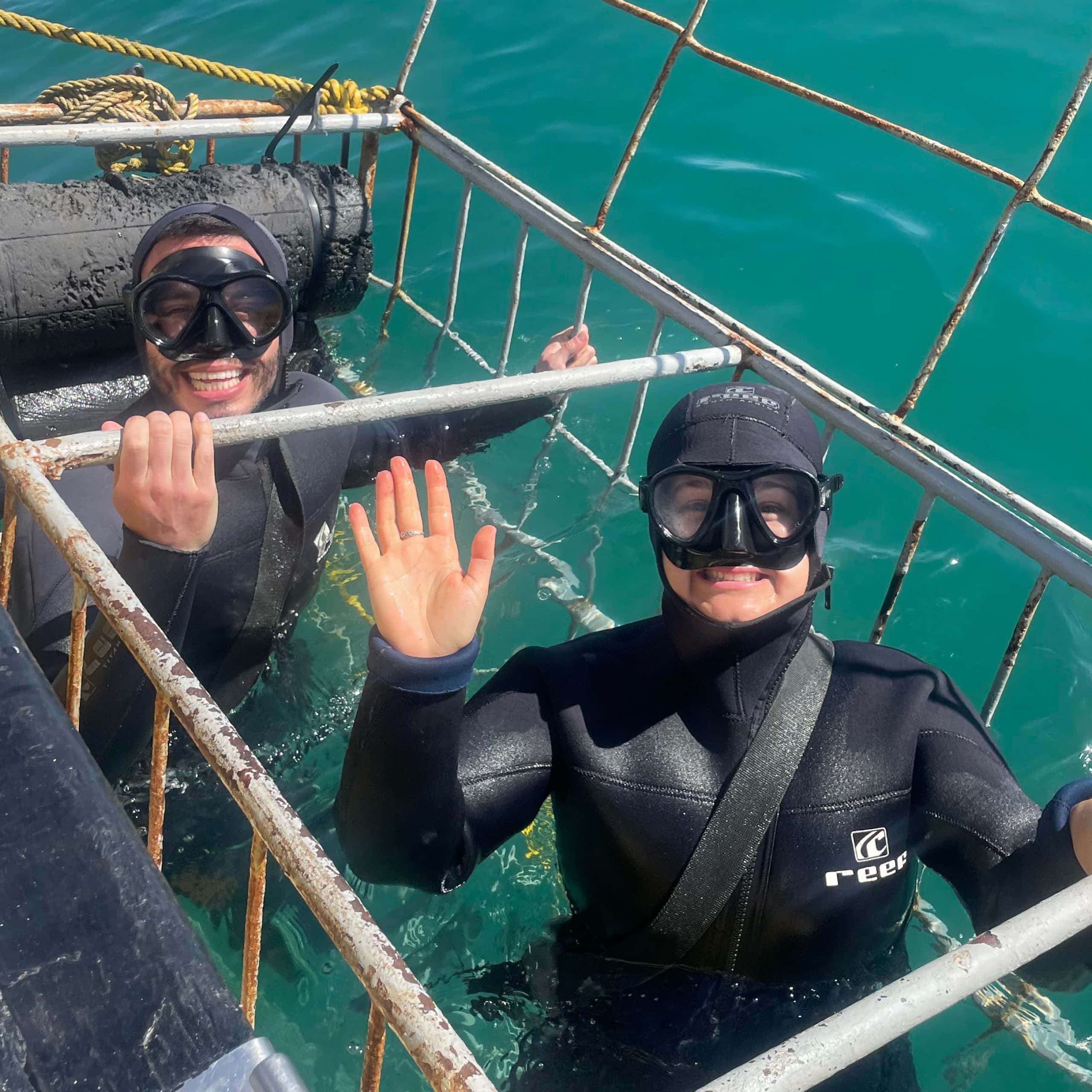 Lastly, there are helicopter rides over the city for those who want to see it from above. Personally, I hate heights, but if you have a death wish then I hear you'll be treated to incredible views over Cape Town – I'll make do looking at the pictures. We don't all have to be brave all the time. 
The Romantic Types…Or Those Who Just Like to Wine
Cape town's alluring beauty makes it the perfect romantic getaway for queer couples – or throuples. It's also a good place to just drink a lot of wine, with or without a significant other. Within the city there are many "romantic" restaurants, but it is the multitude of wine regions scattered nearby which most captured my imagination.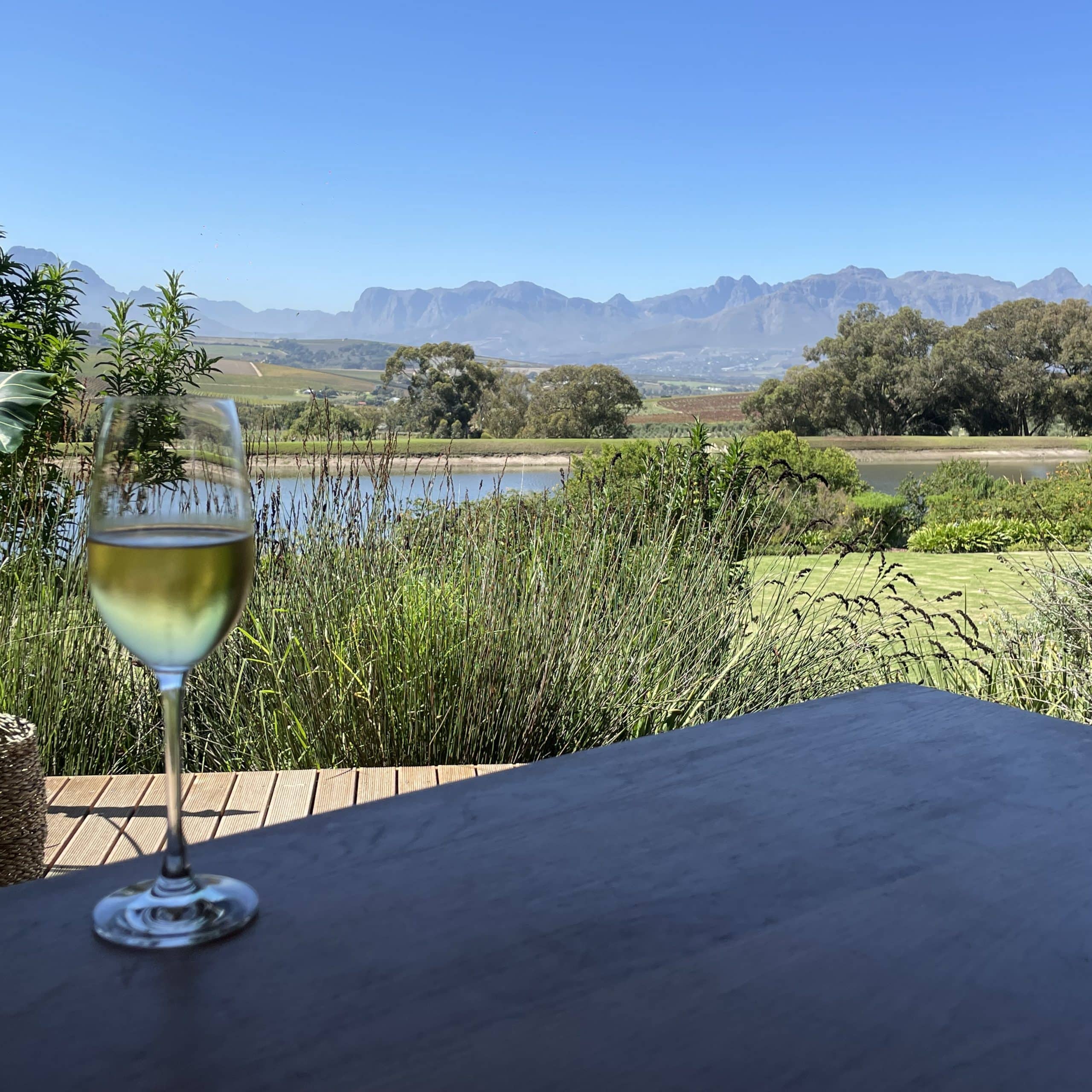 The university town and wine county of Stellenbosch is an ideal romantic escapade from Cape Town, filled with ripe vineyards, verdant gardens and idyllic parks. There you'll find the Jordan Wine Estate owned by Gary and Kathy Jordan, who have been making world class wine since 1993 with a history going back over 300 years. The estate is a 164-hectare property with wonderfully luxurious accommodations and a signature restaurant sporting stunning – and undeniably – romantic views. The chef, Marthinus Ferreira, has been instrumental within the South African food scene, by bringing his childhood favorite dishes and influences from abroad to his cooking. He has worked with some of the world's top chefs, from Gordon Ramsay to Chef Heston Blumenthal.
Other options include the Lanzerac estate with its own amazing restaurant, gorgeous accommodations and pools. Or the Vergenoegd Low Wine Estate, which is possibly the nicest place I've ever stayed – no hyperbole. It includes a private patio, outdoor shower, plunge pool and an unbeatable view overlooking the vineyards as the sun sets. All the better to share with a loved one…or a bottle of wine all to yourself. For that South African country touch, the estate has its own restaurant, Clara's Barn, which is quite literally in a barn.
Back in Cape Town a great place to nurture love is on the Wild Horizons Waterfront Boat Cruise – a 90 minute cruise around the coast and harbor with drinks included, taking in the city's beauty from out at sea and if you're lucky, you'll catch a glimpse of the sea lions and dolphins who inhabit the area.
Nightlife Seekers
Cape Town is no slouch when it comes to nightlife. De Wanterkant is Cape Town's gay area, which what it lacks in size it makes up for in energy and abundance of LGBTQ+ venues. Its trademark rainbow crosswalk on Somerset Road is the first and – currently – only of its kind in Africa.
De Wanterkant is home to many gay bars and venues – check out our gay city guide for an extensive list. However, a highlight is Café Manhattan, a gay owned iconic, eating, meeting and chilling spot, which is the longest standing venue in the area. It's great for a cheeky afternoon cocktail or some pre-club drinks at the bar – either way you'll get to meet some hot locals. Speaking of hot locals, Beefcakes puts a naughty twist on your average gay bar as its claim to fame 'body shots' allow you to take – or rather lick – shots off the chiseled bodies of its sexy servers laid out on the bar in front of you. Who knows, maybe you'll even end up in Shaft – Cape Town's sauna.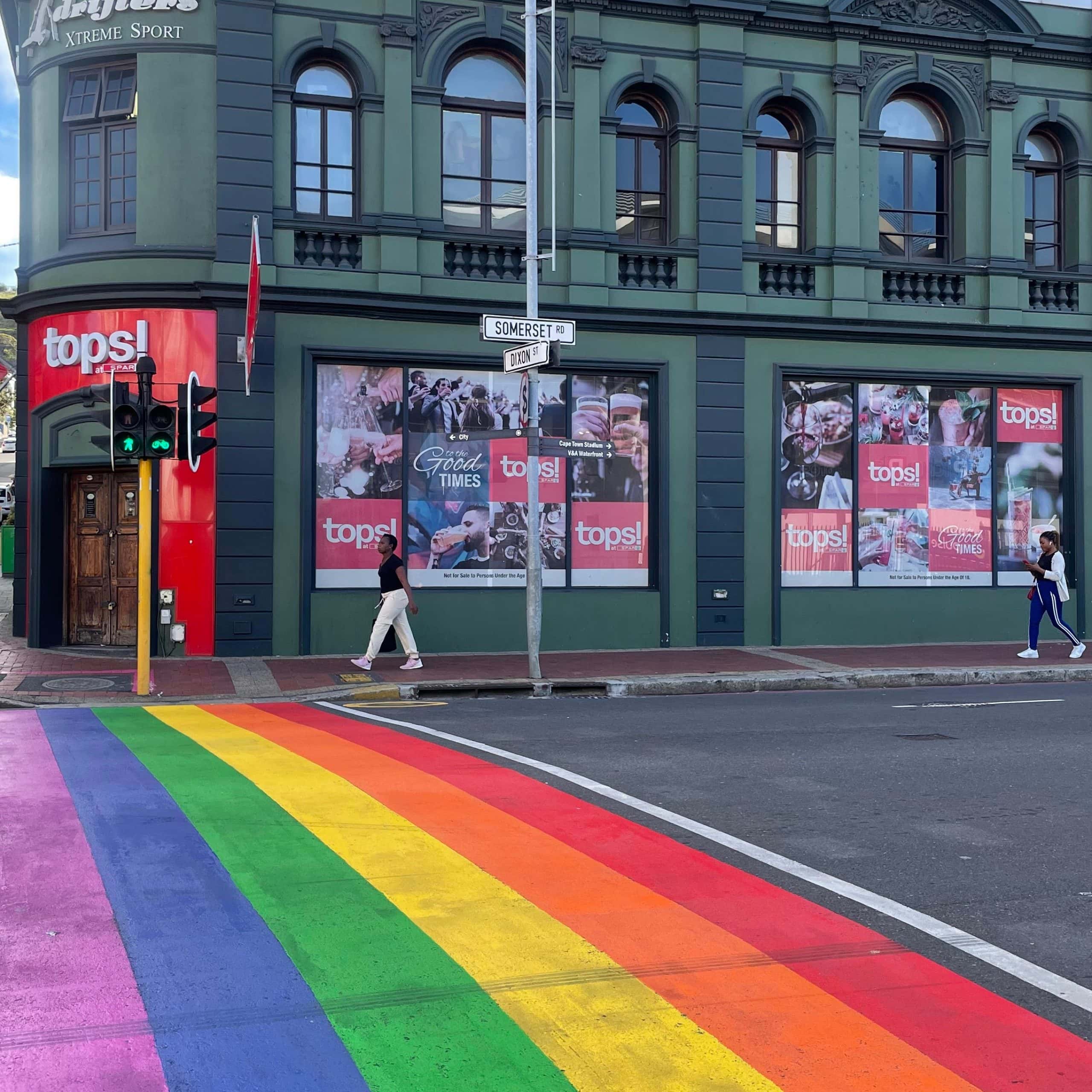 Foodies
Cape Town is a gay foodie's playground with a culinary scene as diverse as its population. You`ll find a blend of local South African flavors, as well as international cuisine influenced by the city's multiculturalism. Naturally, being a coastal town means seafood is its speciality but you also can't miss trying South African dishes like biltong (a kind of dried, cured meat), bobotie (a spiced minced meat baked with egg-based toppings), koeksister (deep fried dough drenched in syrup) and amarula (made from the delicious marula fruit of sub-Equatorial Africa, the marula spirit is distilled and aged in French oak for two years) – just to name a few. My belly was never empty in Cape Town.
There is a wealth of restaurants to choose between but a few of my favorites include Gigi Rooftop at Gorgeous George Hotel – who also make a fierce cocktail due to the expert mixologists behind the bar there. The Nines is a rooftop restaurant showcasing all the best South African food – and once more stunning views. Or if you're in Stellenbosch, there's Warwick Estate, a winery that serves a multi-course lunch in the summer.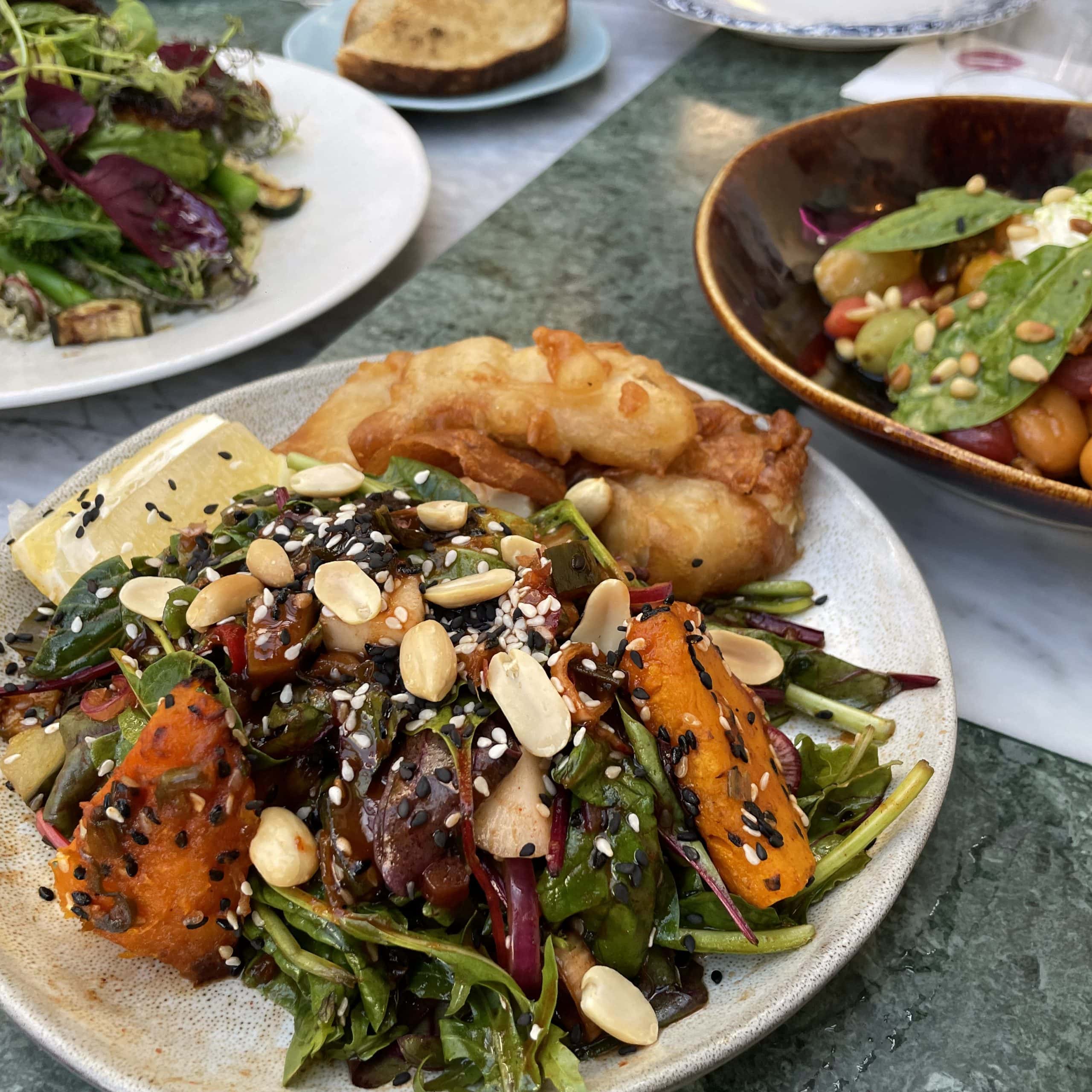 History Buffs and Queers of Culture
Cape Town has a rich and complex history. The city played a central role in the colonial history of South Africa, with Dutch and later British colonial rule leaving lasting marks on the city's architecture and institutions. These influences mixed with those from the indigenous people as well as those from slaves brought from various parts of the world. There are a whopping 11 official languages spoken in Cape Town – each with equal status, including the world's youngest language, Afrikaans. With respects to its queer history it has faced its challenges, but South Africa is the first African country to legalize same-sex marriage and was the fifth in the whole world.
Fans of history will find a lot to reflect on and key locations to explore in Cape Town. The most prominent site perhaps being Robben Island, just shy of the coast of Cape Town and most famous for being the prison of Nelson Mandela during his many years of imprisonment. In the modern day the island has been transformed into a museum – albeit a grim one – which is one of the most popular attractions in Cape Town.
For a "rawer" feeling of the communities within the region there are the 'townships', makeshift housing or informal settlements. You can visit the townships around Cape Town and get a better understanding of the people and the region's history to its present. Some of them are more welcoming than others though and it is wise to visit with a guide, just as I did.
Uthando is a nonprofit organization that runs such tours – such as to the aforementioned townships – and far more. Their principal goal is to connect tourism and community development projects. The director, James Fernie, also just happens to be gay. As well as excursions, they also support many innovative community development projects such as Dance for All, Feed the Khaltsha, and the Isibane se Afrika choir.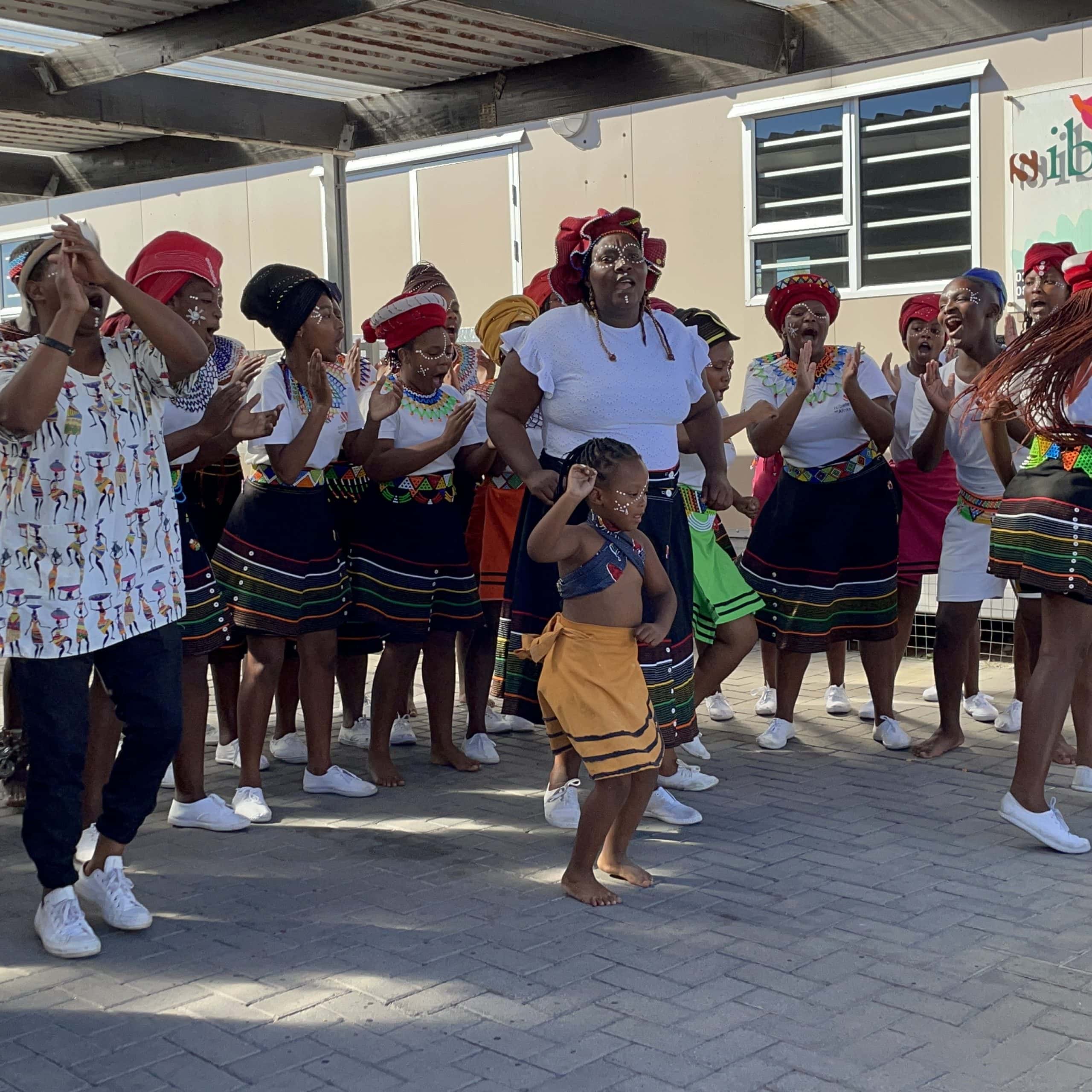 Cape Town was also where the World Travel Market was held – showcased by Equal Africa and supported by The IGLTA (International Gay and Lesbian Travel Association) and is an event made to support brands that target the LGBTQ+ community – teaching them how to be more than superficial supporters of our rights and interests. 
So, no matter what "type of queer" you are, Cape Town is the Mother City which nurtures all. Just be sure to drive on the left.