Madrid is a vibrant city that doesn't sleep and it's not uncommon to see last nights' partiers walking home at 8am in the morning. We'd argue it's perhaps the gayest capital city in Europe, or at least contending with Berlin and London. Chueca is the center of the LGBT+ community in Madrid where you'll find the highest concentration of gay bars and nightclubs.
Choosing where to stay in Madrid is an important decision you make when planning your trip. The options are limitless, and your choice ranges from large hotel chains to small, boutique hotels or apartment rentals. You can also find gay-owned hotels in Madrid or even a hotel chain like Axel Hotels, which is designed for the LGBT+ community.
While staying at a gay hotel might not be the preference for everyone, some travelers enjoy the open environment that Axel Hotel Madrid offers where you can simply relax and be yourself. It's true there are many gay-friendly hotels in Madrid which are not necessarily gay-themed or designed for the LGBT+ community, but those properties simply can't provide the same type of unique experience offered by Axel Hotel Madrid.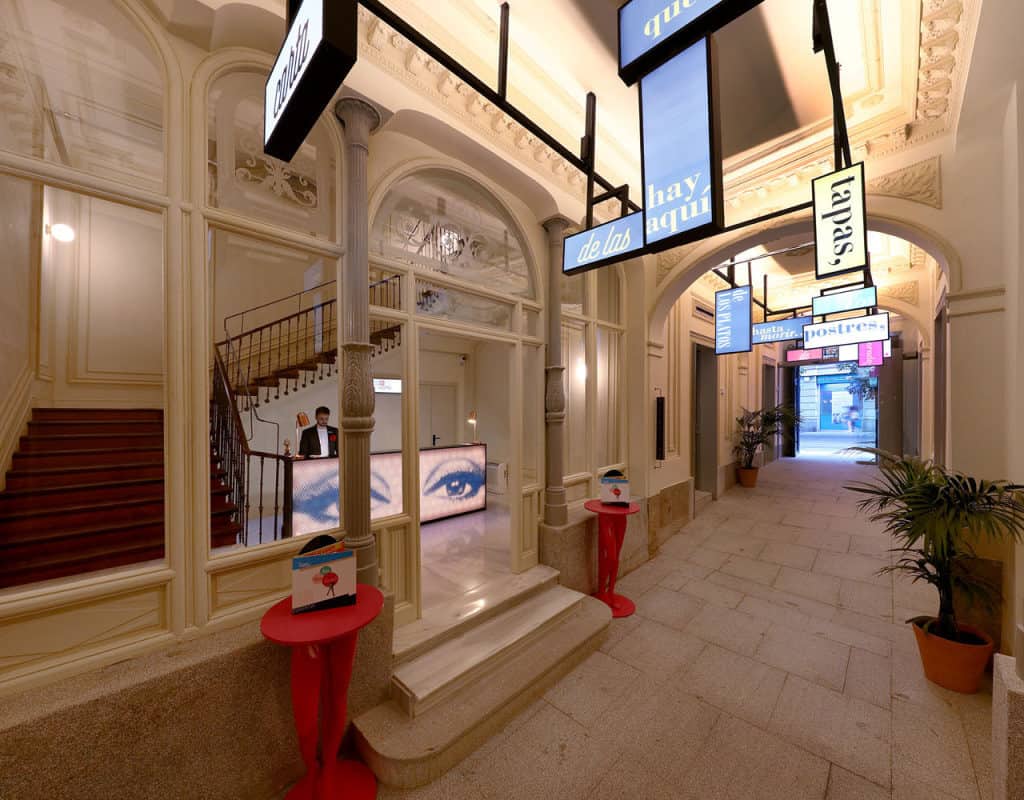 About Axel Hotels
Axel Hotels was founded in 2003 and is really the only major gay hotel chain in the world. Their hotels are mostly located in Europe, but they recently expanded to the US, and will soon expand to Portugal, Cuba and beyond.
The Axel Hotel vision is to offer a hotel aimed at the LGBT+ community. The spaces are cosmopolitan with a tolerant environment where diversity and respect are valued. The philosophy is a hotel chain for the entire LGBT+ community where two men, two women, a man and a woman or any type of customers are equally welcome, without prejudice to their sexual orientation. Axel Hotels is designed for the LGBT+ audience but is opened to everyone. In fact, Axel Hotels doesn't define itself exactly as a gay hotel per se, but rather heterofriendly.
What Can You Expect if You Stay at an Axel Hotel?
Axel Hotels are properties where any guest, gay or straight is welcome to stay, but with the concept of offering a space designed for the LGBT community. You could bring a straight friend or even your grandma to one of these properties and you wouldn't feel awkward. The concept is simply to create a welcoming environment for LGBT guests. Axel Hotels is gay owned and operated and they promote respect and diversity, have non-discrimination policies as well as offer sensitivity training for their staff.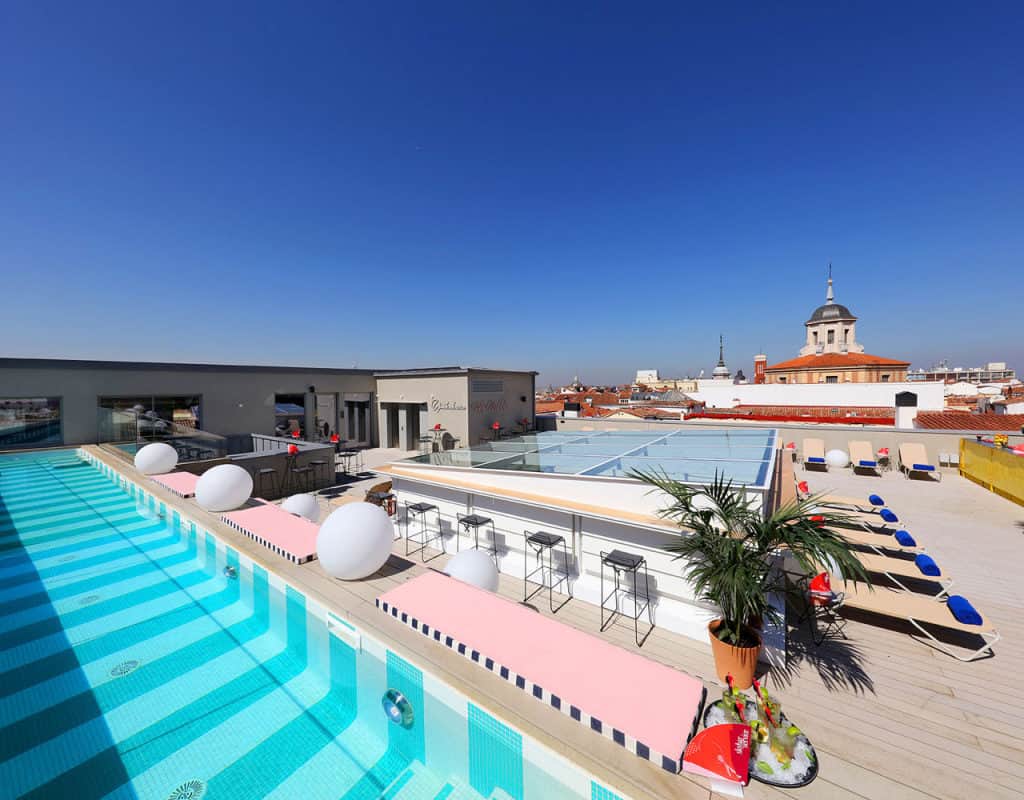 Axel Hotel Madrid is centrally located near the gay neighborhood of Chueca and the touristic center of the city. If you're visit the city during gay pride or a popular gay event, rooms at Axel Hotel Madrid get booked well in advance, so you'll need to plan ahead. Axel Hotel Madrid is a great option if you're traveling with your same-sex partner and you won't have any issues with public displays of affection.
Axel Hotel Madrid was opened in 2017 and is located in the Barrio de las Letras neighborhood, about a 10-minute walk to Chueca, Madrid's gay neighborhood. It has 88 rooms, a rooftop terrace with pool, small gym as well as a bar and restaurant on the ground floor. Axel Hotel Madrid is often fully booked during events like Madrid Gay Pride as well as other gay festivals like MADBear, Sleazy Madrid and WE New Year's Festival.
Our Review
Axel Hotel Madrid is a relatively new property and we love the layout and design. In addition to the hip and trendy rooms, the property has a nice rooftop terrace called the SkyBar, along with a small pool. Every stay we've had at Axel Hotels has been enjoyable and the staff is always friendly and helpful. It's usually quite easy to socialize with and meet other guests, which is great when you're visiting a new city. Although it's not located in Madrid's gay neighborhood Chueca, it's just a 10-minute walk north, where you can find all the gay nightlife. The location is perfect for visitors because you can walk to almost all the tourist sites of interest in Madrid.

Ready to Book Your Stay at Axel Hotel Madrid?
Interested in staying with a gay host in an apartment rental instead of Axel Hotel?
Next to Axel Hotels, misterb&b is definitely the other major player in the market. Founded in 2014, misterb&b is not a hotel or chain, but rather a booking site for rooms, apartments and homes. Similar to AirBnB, misterb&b is an online service that allows you to rent short- or long-term spaces from gay and gay-friendly hosts around the world. They have hosts in more than 135 countries with more than 200,000 total listings. They recently even started offering listings of gay and gay-friendly hotels on their site for a one-stop shop. You can even list your own room or apartment to earn cash from gay travelers in your city. Understanding a city's gay scene is much more easily done with the help of a local and apartment sharing is one of the best ways to meet someone living in the city who knows the best insider advice.