Traveling abroad can be one of the most rewarding and memorable adventures but leaving your home country presents additional challenges and risks. In many cases, you're immersing yourself in a new culture and perhaps a language you don't know. Some destinations require you to secure a visa in advance, you might need vaccinations and a change of currency is another consideration when planning your trip.
But even more important is your health, safety and the security of your belongings. Over the past eleven years traveling, we've had our fair share of travel scenarios gone wrong (or worse), and in many circumstances, our decision to purchase travel insurance really saved our ass not to mention our bank account.
Let's be honest for a second….travel insurance sucks. These companies are banking on the fact that you'll buy a policy and never need to make a claim, after all that's how the insurance model works across all industries. Sometimes worse is the effort some insurance companies put into finding a way to reduce or reject your claim based on the fine print of the policy. Still, there are lots of cases where paying for insurance might actually make sense and traveling abroad is often one of those.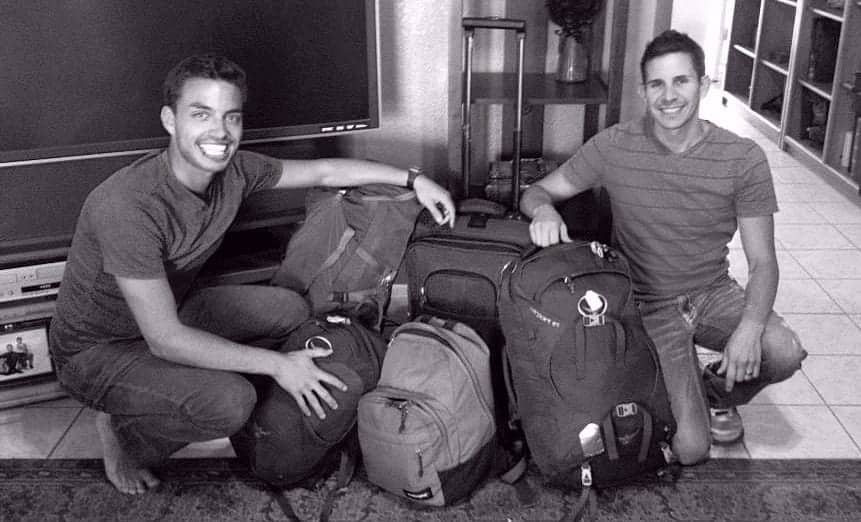 Travel insurance can be complicated to understand and there are usually a few major key items that a travel insurance policy provides. This can typically include overseas medical, evacuation, travel cancelation, baggage, personal belongings protection and coverage for a range of adventure sports and activities. We've used a few companies over the years, but our top choice now is HeyMondo for the simplicity on buying a policy, their easy to use app, their customer service and the positive experiences we've had with them.
Here are just a few cases when buying travel insurance really saved the day and kept us from going broke due to circumstances out of our control.
Stolen Laptop in Argentina
Back in 2013 we were part way into our round-the-world trip and were spending two weeks in Argentina before moving on to explore Brazil. On a random day at a nice cafe in Mendoza, western Argentina's popular wine destination, my backpack with laptop inside was plainly stolen in broad daylight. I'm still not sure how the thief was able to distract the attention of three us or having coffee together, but they managed to take the bag without a trace. At the time we had purchased a 6 month policy to cover the second half of our trip.
Insurance cost: $300
Laptop claim: $450
Savings: $150
Stolen Phone in Spain
During our first year in Spain, we were still on a tourist visa and didn't have Spanish health insurance. At the time we decided to extend our travel insurance policy since it included medical coverage for illness and emergencies, not to mention various other coverages including theft. We couldn't have made a better decision because partway into our stay my iPhone was stolen from out of my pocket during a night out. While Spain is quite safe overall, petty theft is not uncommon especially targeted towards tourists. The following morning, I went to the local police station to file a police report which was required in order to submit the insurance and get reimbursed.
Insurance cost: $300
iPhone claim: $400
Savings: $100
Emergency Room Visit in USA
You might think we needed travel insurance in Mexico or maybe Thailand most, but surprisingly we got the most return in our home country, the United States. Our most recent and extreme case happened in August 2016 during a trip to the US. David and I were spending a few days in LA and later flew to Phoenix for a week to visit family. Partway into our LA trip, David got an infection in one of the glands in his cheek. While just a bit swollen and painful, he quickly visited an urgent care to try and catch the problem early. The doctor prescribed some antibiotics and he thought that would be the end of it. Four days later the infection got so bad he was advised to visit the emergency room and ended up staying for two nights in the hospital. Needless to say, hospitalization and treatment in the US is incredibly expensive. Combing expenses and medical bills, the total was well over $12,000.
Insurance cost: $74
Medical claim: $12,000
Savings: $11,900+
Over the past six years, we've probably spent about $2,000 on travel insurance policies given the amount we travel, but even the one visit to the emergency room paid for itself five times over. Certainly, purchasing a travel insurance policy is up to you and it's just a decision on how much risk you're willing to take. If you're traveling in your home country, you'll likely already have coverage for any medical problem that might arise. But if you're traveling abroad it's a much smarter decision to add a travel insurance policy for protection just in case. If you're lucky you won't have any issues and you won't need to use it. But sometimes unplanned things happened, and you must be prepared.
If you're looking for peace of mind from travel delays, cancellations, theft or medical care, we personally use HeyMondo. It's simple to buy with plans starting at around $50 USD. You can even save 5% on your policy by using our special Two Bad Tourists link here. The plan duration ranges from 1 week to one year and you can always renew your policy on the road if you're a long-term traveler. You can buy and claim online, even after you've left home and it's available to people from 140 countries. It's designed for adventurous travelers with coverage for overseas medical, evacuation, baggage and a range of adventure sports and activities.
Note: Some of these links are affiliates which means using them won't cost you any extra but we do receive a small commission for each referral. You're not obligated to use them but we appreciate it if you do. Thanks in advance for supporting this site if you choose to use our link!
Featured image credit: CheapFullCoverageAutoInsurance.com via Flickr CC BY 2.0