This post was updated on February 2nd, 2020.
This is one question I've asked myself for a while. Now living in Europe for nearly a year, it's easy to travel within the European continent because it's so small and well connected. Virtually every major city is connected via budget flights, train and buses. I've always known about Luxembourg but had no clue what to expect. What could such a small country, often overlooked by more famous cities nearby like Paris, Brussels or Amsterdam, really have to offer? And the bigger question…do you even know what to do in Luxembourg to get the most out of your trip?
To answer this question, I set out on a 3-day trip to Luxembourg City (the capital of Luxembourg) to decide for myself. I stayed at the Hotel Vauban, which was centrally located in the main plaza near almost all the Luxembourg attractions – perfect for walking to the main train station and to many sights of interest. And with rates as low as 60€, it's an affordable private room in an otherwise expensive city. If a hotel isn't your style and you prefer having more cozy accommodations, try renting an apartment with a site like AirBnB. Prices are generally comparable to budget hotels, especially if you're willing to get a room in a shared apartment. Plus, if you sign up with AirBnB using this link you will receive a free $25 credit on your first stay.
The currency of Luxembourg is the Euro so no conversation is required, making it a simple visit. The Luxembourg airport is also just 6km outside the city center. What I quickly found upon my arrival is that Luxembourg is incredibly diverse its in people and landscape. I often wonder when I travel to a place, "What does the average local look like? How do they conduct themselves? Are their customs noticeably different from the places we've visited?" I soon found out that the people of Luxembourg are not what I expected. And even more, I was really in awe from the beauty of the city and how its natural landscape formed its history.
I arrived at the central station in Luxembourg City coming from Rothenburg ob der Tauber, Germany. I noticed immediately that the population was incredibly diverse. People young and old were dressed in both business suites and casual, yet stylish outfits. I also heard more foreign languages spoken than I could count. I later discovered from a tour guide of Luxembourg City why I couldn't generalize the average local. The reality is that Luxembourg City has a foreigner community of nearly 70%! People from all over Europe and around the world come to live and work in Luxembourg, often taking jobs working for an international bank or the European Union. Luxembourg City actually shares the title of Capital of Europe with just Brussels and Strasbourg, as these three cities house most of the European Union administrate and political offices.
So once I became accustomed to the dynamic and diversity of the city, my next mission was to discover the culture and offerings and what to see in Luxembourg – this tiny country with a population of just 530,000 inhabitants!
I visited numerous sites and did several different activities on my trip, but I've narrowed down my experiences to the top 5 things to do in Luxembourg.
City Promenade Guided Walking Tour (#5)
I'll be honest. I usually don't like walking tours much but usually participate because it's a good way to familiarize yourself with the city at the beginning of a visit. In this case, I was pleasantly surprised and I enjoyed both the tour and guide. Given the international nature of the city, our guide gave the tour in both English and German. She was fantastic and was one of the few local Luxemburger's I met in the city. I was intrigued by this place from the beginning and her knowledge and general trivia kept my interest for the entire four hours.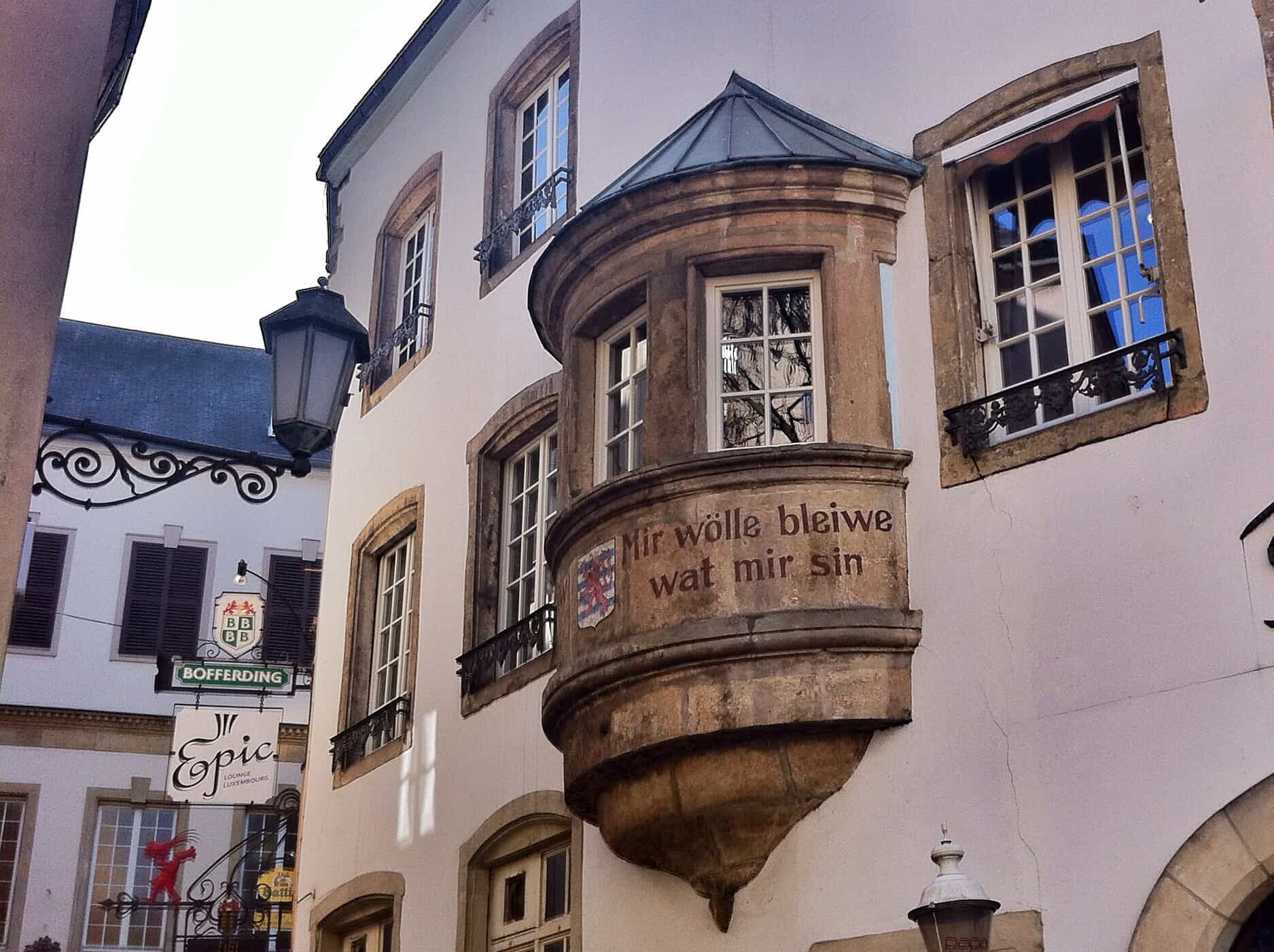 Casemates du Bock (#4)
Luxembourg was founded in the 10th century with the construction of a castle on a nearly impenetrable rock at the tip of the current old town. Beneath this former castle (it's now in ruins) are 17  km of tunnels carved out of the rock that was used for storage and defense of the castle in the middle ages. The tunnels open up on all ends to panoramic views of the city and the valley below. Some of the paths can be a bit claustrophobic but it honestly adds to the experience.
Petrusse Park in the Alzette Valley (#3)
I visited the Petrusse Park not as a tourist activity but because it had a picture perfect jogging path. During our 1 year round-the-world trip, we managed to stay in shape by jogging in nearly every city and country we visited. My travels today are no different and I was happy to find a pathway down to the park just 5 minutes walking from Hotel Vauban, where I stayed in the old town. But don't think you need to be exercising to visit this place. In fact, I would recommend taking a walk around the park any time of day to experience the views of the opposing cliffs, the far reaching bridges and the small, yet surprisingly quaint river that is responsible for carving its way through this valley millions of years ago, giving Luxembourg the topology it has today.
Vianden Castle in Northern Luxembourg (#2)
One benefit of visiting such a small country is the ease of exploring the cities and regions outside the capital. I took a day trip from Luxembourg City to Vianden to visit the most beautiful castle in Luxembourg. Vianden is just 50 km from Luxembourg City and it's easily reach via train and bus, taking about 1 hour. You can visit the Luxembourg City Tourist Office for directions and transit schedule. It's probably worthwhile to buy the Luxembourg Card one-day pass for this journey which only costs 9€. This will save you from buying individual tickets and it actually gets you free entrance to other sites, activities and museums. From Luxembourg City central station you take the train to Ettlebruck Gare, where you change to bus 570 to Vianden. Get off at the Vianden bus station (called "Vianden Gare") or go one stop farther, which is actually closer to the castle entrance. From the bottom of the hill, the castle is about a 15 minute walk. Entrance to the castle is 6€ (free with the Luxembourg card) but I suggest paying the extra 2€ for the audio guide because there is not signage in English.
The Views of Old Town Luxembourg from the Lower Town of Grund (#1)
My favorite part of the entire trip was exploring the lower town of Grund, which sits on the Alzette River and is at the base of the former fortress surrounding Luxembourg City old town.  The views along the river are stunning and the views up to the old town are even more spectacular. From the entrance to Grund, you can walk up the hill 15 minutes where you'll find several viewpoints perched on the side of the cliff with some of the bests views of Luxembourg City you'll find. Grund is actually only a 10 minute walk from the old town but don't make the mistake I did! I walked down from the old town to Grund, winding down the roads that switch back and forth. I later discovered there's an elevator that cut my 15 minute journey down the hill to about 30 seconds. Just follow the elevator signs pointing to Grund.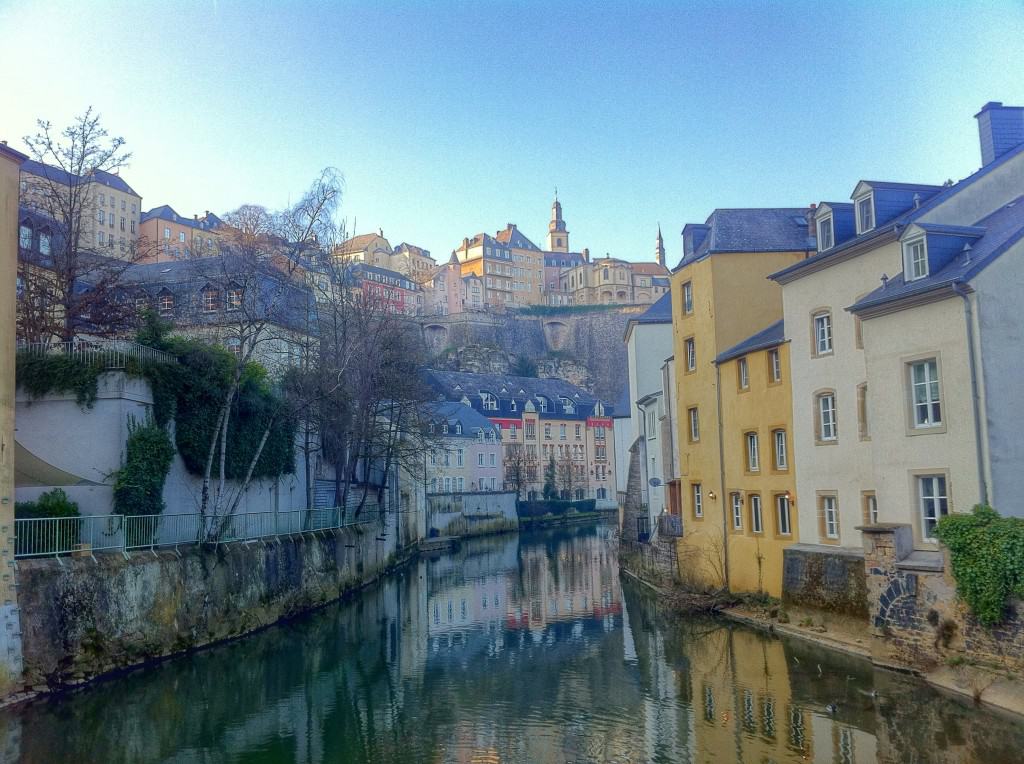 My visit was great and I was surprised by all things to do in Luxembourg City and by how much I enjoyed. It's one of the few small cities I actually wish I had more time to explore. Though one aspect of my visit that did disappoint me was how the city shuts down after 7pm. Living in Luxembourg wouldn't be well suited for me. I'm accustomed to big city life in Madrid and the late night habits of Spanish culture, so I was a bit thrown off when I couldn't find a supermarket or any shops open in the evening. Luckily, there are plenty of restaurants and bars in around that are open into the night to feed your appetite for any food or drink!

Traveling to Luxembourg? You might consider one of these transportation options:
Eurail Pass: gives you access to the entire European rail network and saves you money compared to buying individual train tickets.  The passes allow train travel in specific countries, regions or throughout Europe depending on the pass type. You can use the pass in up to 28 European countries and durations range from 3 days to 3 months.
BlaBlaCar:  ride sharing program operating in Europe. Like AirBnB for cars, it's a trusted community marketplace that connects drivers with empty seats to passengers looking for a ride.
Omio: rail, bus and air transportation all in one search engine for Europe. You can find the best route based on price, time or duration. This is a great option if you're traveling around Europe and want to compare the best route from one city to another.
Or if you're visiting Brussels and want visit Luxembourg on a day tour, check out this tour here.
Looking for more travel tips in Luxembourg? Check out the top 15 places to visit on The Crazy Tourist.
Has your opinion of Luxembourg changed? Or like us, did you even know anything about Luxembourg beforehand? Let us know your thoughts in the comments!
The Luxembourg City Tourism Board sponsored several aspects of my visit but rest assured all opinions are mine.