What does your underwear say about you? What you have on under your pants is yet another opportunity to express yourself, show off your personal style, and enhance your best assets. Whether you're the adventurous type and like something with mesh and colors, the athletic guy leaning towards something sporty and breathable, or you enjoy the everyday boxer brief that keeps everything in place, we're here to help you find that next favorite pair to add to your collection. 
With so many brands on the market from subtle and sexy to bold and bright, we'll help you find the perfect pair to give you that extra boost (of confidence, of course). Here are a few of our favorites that we're sure you'll love, too! What are you waiting for? Spice up your underwear drawer with a new pair of sexy briefs or let loose your wild side with a revealing thong or jock.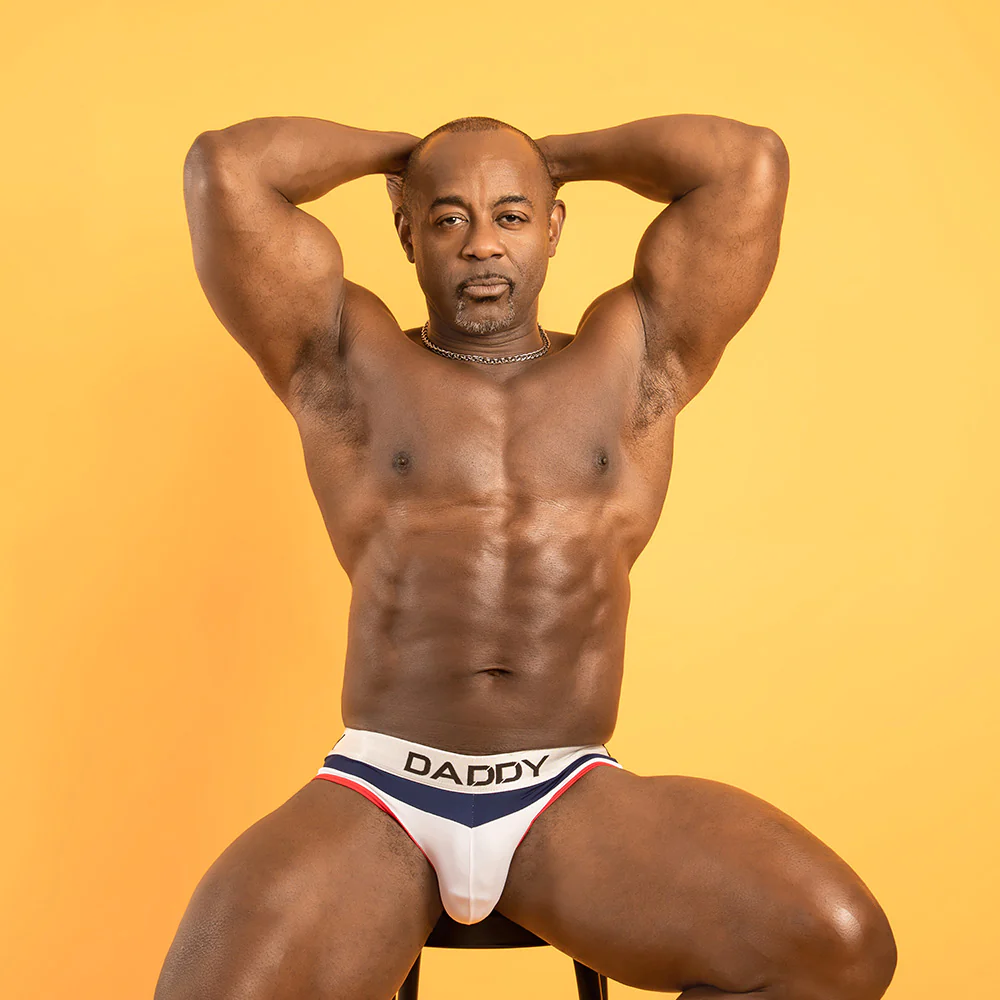 Skiviez
Unabashedly sexy, Skiviez underwear leaves little – or sometimes nothing at all – to the imagination. Their jockstraps, thongs, g-strings, briefs, boxers and "enhancing swimwear" are made to flaunt the male figure in all its splendor. The Florida brand's goal is to blend sex appeal and comfort into one satisfying package – so to speak. Skiviez have sold more than a million pairs of underwear to over 100 countries since its creation in 2000 and now have more than 30 brands up for grabs. Including Daddy Underwear, Good Devil and Miami Jock – to name the sexiest sounding of the bunch. Skiviez also sells tank tops, costumes and accessories like rings – yes, that type of ring.
Marco Marco
You don't need a runway to feel like a fashion week model as you strut your stuff in the latest creations by Marco Marco. The man behind the bold patterns and unconventional designs is LA-based designer Marco Morante who has created iconic looks for celebrities like Katy Perry, Kesha, and Britney Spears. Ready to show off some skin? Beneath the signature MM logoed waistband, take your pick of briefs, boxer briefs, jockstraps, thongs, or trunks offering the ultimate in comfort and style as poly/spandex and see-through mesh fabrics are pieced together to make stunning works of art while providing the best fit. With popular pieces offering a half-moon cut out or totally exposed backside, you'll always be showing the perfect amount of skin.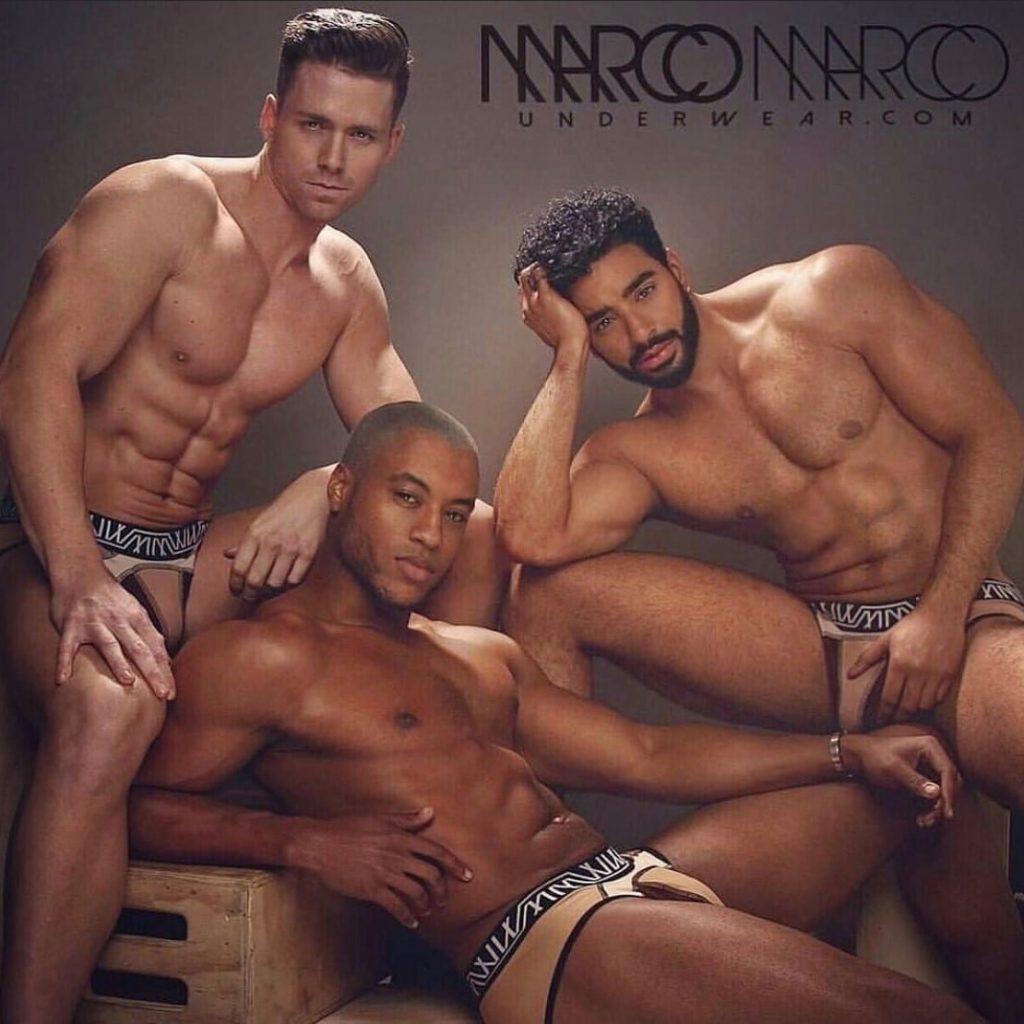 Differio
Based in New York City, Differio is the ultimate online gay apparel destination for stylish clothing, shoes, and accessories, curated for anyone seeking the world's most extreme trends. Constantly challenging men's fashion stigmas and encouraging style freedom, their gay underwear collection is just as unapologetically bold as the rest of their trendy menswear items. You'll find top gay underwear brands for men of all tastes, including Modus Vivendi, Cellblock 13, and 2XIST, as well as Differio exclusives and independent designers. They're always on top of the latest sexy men's underwear styles but crafted with that uniquely Differio edge, such as leather jockstraps, butt-enhancing underwear, and lace-up pouch briefs. Really want to go off-the-charts provocative? Make it a whole look with gay lingerie and naughty accessories, like assless chaps, sporty singlets, hood masks, exotic robes, and so much more. If anything, this is one gay underwear store where no kink is off-limits.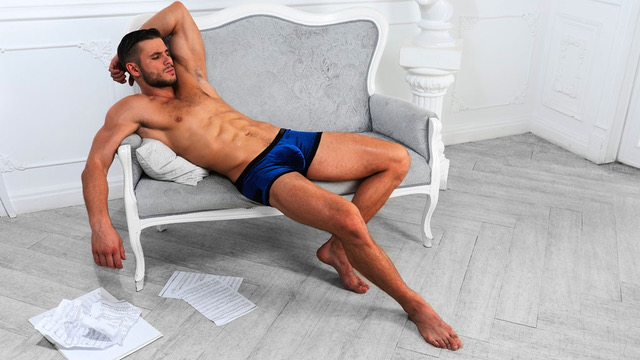 Andrew Christian
If your taste in underwear is playful and sexy, you should be no stranger to American designer Andrew Christian who embraces gay culture in everything he creates: undies, swimwear, activewear, and most recently a new line of skincare products. There's no holding back with iconic collections like Massive, Blow, Trophy Boy, and FUKR that all leave very little to the imagination and bring your sexual fantasies to life. AC models are seriously sexy, but don't take themselves too seriously sporting fun and whimsical prints like the flying unicorn brief and turning up the heat in metallic mesh jocks. We recommend anything with the Almost Naked pouch featuring an anatomical design to feel like you're almost wearing nothing at all.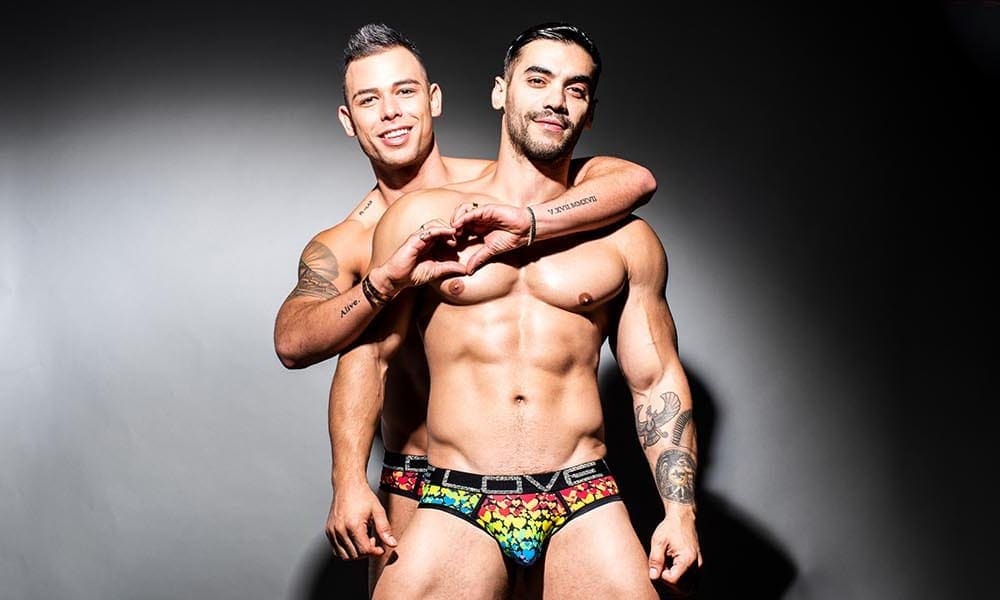 Addicted
If American underwear is too mainstream for you, then maybe your underwear collection needs some Spanish flare. Founded in Barcelona in 2009 as a men's swimwear brand focused on gay men's fashion, Addicted is not shy to show off the chiseled Spanish men who take center stage to model their latest designs. More than just swimwear, they offer underwear, sexywear, sportswear, casual wear, as well as pieces designed specifically to give a big boost to your front and backside. A few of the most popular collections are the neon, party, pride, and fetish lines. Feeling adventurous? Try the new Ring Up in briefs that feature a removable cockring for extra support, better lift, and primed for playtime.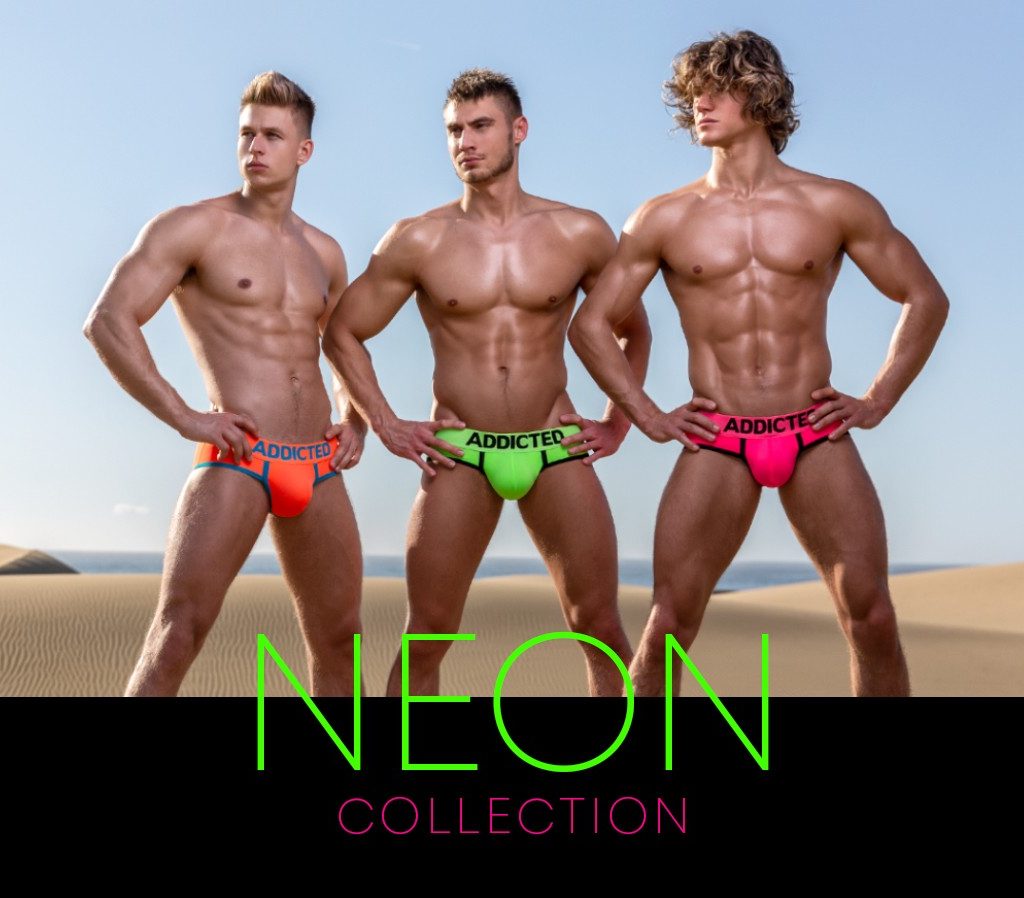 ES Collection
What began as Addicted's premiere brand back in 2006, ES Collection has evolved into an underwear and lifestyle brand including athletic wear and casual wear perfect for your next circuit party including crop tops, mesh tanks, and more. Many designs have a sleek and sporty look with contrasting colors and an emphasis on fit and comfort. Proudly designed and made in Barcelona, a few of our favorites are the Second Skin, Wonders, and Flags collections and we like to mix it up with their mesh jocks and bottomless briefs for a sexy surprise. For a little extra support and lift, check out the variety of tech underwear with padded and PushUp technology to accentuate your curves in all the right places.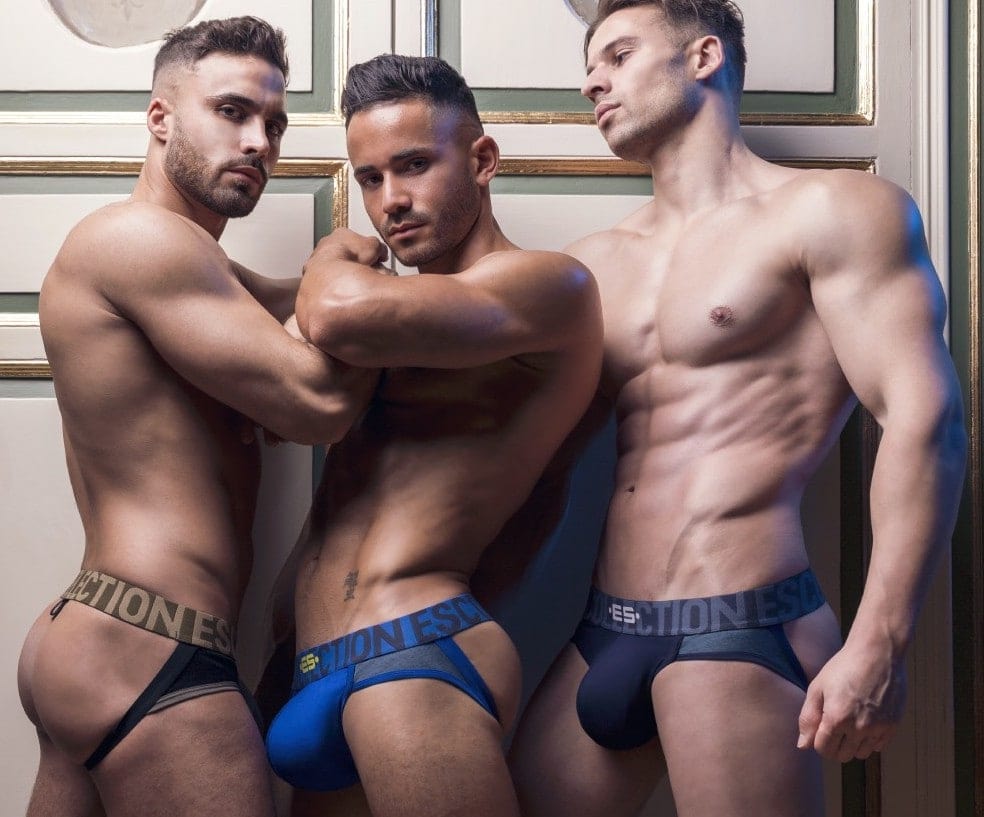 Aussiebum
Bringing a whole new meaning to the land down under, Aussiebum is a stylish, sporty, and cheeky brand proudly made in Australia. Athletic and fit Aussie hunks model the various lines of underwear, swimwear, and clothing (we recommend the cute rugby shorts and tanks). For underwear, you can't go wrong with their bestselling Classic Original featuring a cotton-blend and vintage feel available in a variety of colors. Other popular styles are the sports performance GridFit underwear, as well as the pouch enhancing Wonderjock and EnlargeIT series for a little extra lift where it counts. Whichever suits your style, Aussiebum will have you feeling like life at the beach no matter where the day takes you.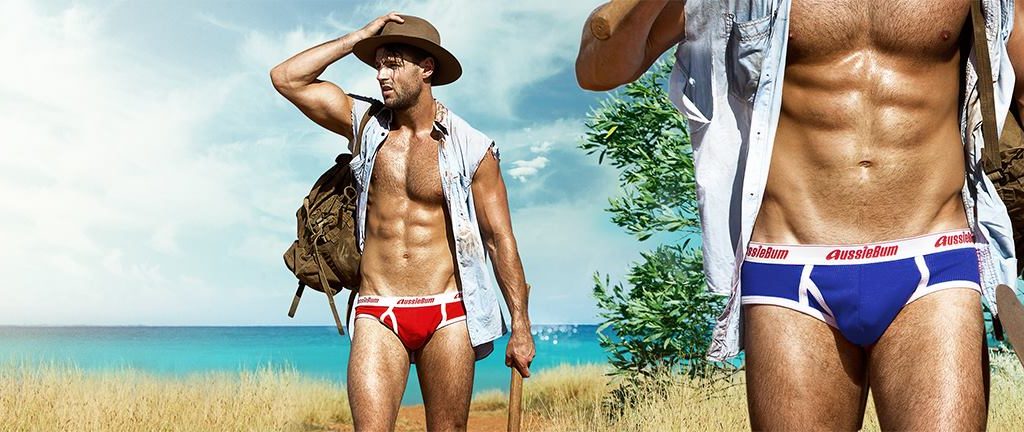 JJ Malibu
Want to turn heads at the next circuit party? JJ Malibu is your one stop shop for fierce and fabulous underwear, swimwear, partywear, adult toys, and juicy advice. Make a statement with their tops and tanks proclaiming, "Gay AF", "Daddy", and "Pound Cake" or show everyone there is enough booty to go around with a pair of see-through shorts. A pair of JJ Malibu briefs, jocks, or thongs will put you in the mood to get rough and naughty. Beefy models in provocative poses sport underwear that will make your bubble butt pop and leave almost nothing to the imagination. With collections like Military, Circuit, White Party, and Pride, this is the perfect place to get your festival wear or get ready for a night out.

Barcode Berlin
Started in Berlin, Germany this company focuses on fetish sportswear. Designs are sexy and authentic and they release new styles every month. From underwear, tanks, jockstraps, socks and shirts, these pieces complement your appearance if you're going for a fetish look. Whether it's to wear to a circuit party, kink event or just act out a fantasy privately or with a special someone, Barcode Berlin is innovative and sexy. They produce all their products in their own factory which is based in Portugal. Founded at a time when it wasn't so popular to combine harness, lace-shorts and backless underwear, Barcode Berlin stood out ahead of other designers with their sporty fetishwear, which has now become incredibly trendy.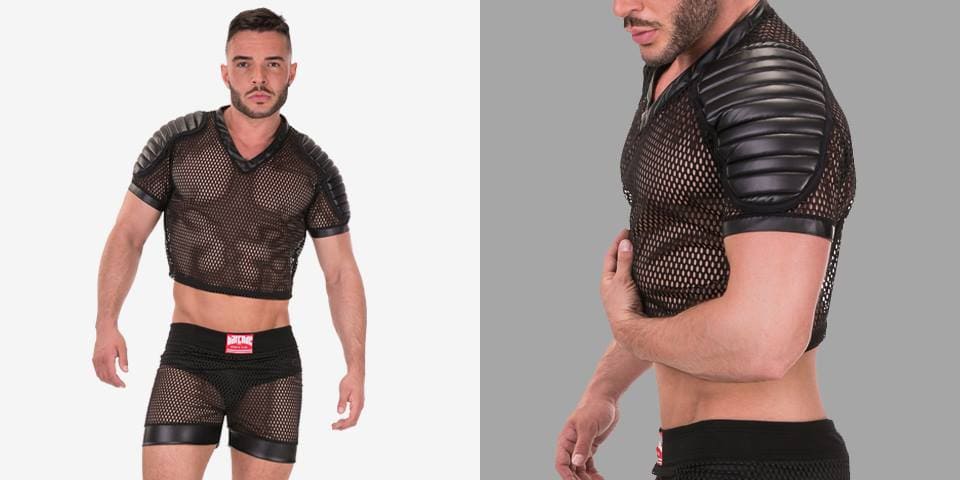 Nasty Pig
Nasty Pig is based out of New York City and was founded in 1994 as an act of defiance against the AIDS epidemic that had taken so many lives within the community and was all but ignored by the federal government. It's now a leading gay men's clothing brand that makes hot clothes meant to get you laid. New designs are released regularly and take more than a year from concept to market. Criticized in the early years for the brash name "Nasty Pig," they didn't back down from being forward and embracing men's sexuality. In fact, rather than responding to criticism, they saw this as an opportunity to shine and work and against all odds to make the vision dream a reality. Check out their online store for hot new looks, gear, and more for the streets to the sheets.

Garçon Model
This underwear brand was born out of Vancouver, Canada and is designed for total sex appeal. Their philosophy is simple and they strive to create sexy underwear and swimwear that they themselves would want to wear. Founded in 2012, Garçon was launched with the aim of creating a stylish underwear brand that is both elegant and sexy. In French the expression 'Garçon Model' means 'Good Boy' but recently they have begun to simply go by the name 'Garçon.' In addition to just designing and producing sexy underwear and swimwear, they are also dedicated to social justice, regularly contributing to homelessness, refugee and LGBT+ charities.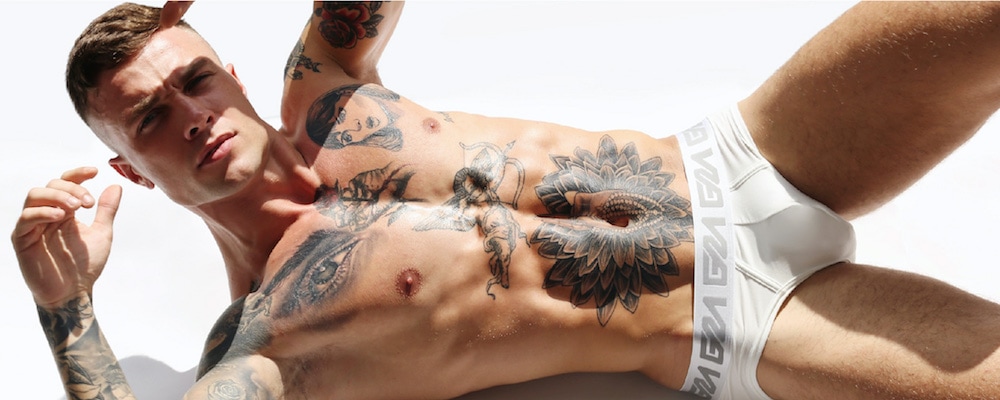 Featured image credit: Andrew Christian
Bonus: Underwear Subscription Packs
Fashion need not mean expensive and hopping around a little can lead to some sexy bargains. Daily Jocks have up to 70% discounts on all the big names. Interested in getting some of these underwear brands delivered to your door monthly? JOCKBOX offers the ultimate underwear subscription and they'll ship you a variety of different brands and styles based on your taste and budget.  Not sure what looks good on you? Well, take the quiz over at Underwear Expert and let them make you a discounted box of underwear for you – where custom sizing technology ensures you get the right fit. Meanwhile, Next Gay Thing creates themed packs that combine the best underwear brands with grooming kits, leaving you good to go for any occasion – be that a Circuit Party or the privacy of your – or someone else's – bedroom.
Note: Some of these links are affiliates which means using them won't cost you any extra but we do receive a small commission for each referral. You're not obligated to use them but we appreciate it if you do. Thanks in advance for supporting this site if you choose to use our link!