Spain is famous around the world for its cultural traditions, great beaches, history and welcoming atmosphere. In just several decades, the Spanish people have managed to emerge from a repressive dictatorship to become one of the most progressive destinations on the planet. As the third country in the world to legalize same-sex marriage back in 2005, it's no surprise that Spain is welcoming to the LGBT+ community. According to LGBT Capital, LGBT+ tourism brings in an estimated $6.8 billion to Spain annually, putting the country ahead of France, Germany, the United Kingdom and Italy. Clearly, Spain has much to offer that's already drawing gay travelers in.
Spanish culture is fun, friendly and very social making it easy to get caught up in the party scene or lose track of time sitting on a terraza sipping wine in the summer. Spain also has a lot of ways for you to immerse yourself in its incredible and complex cultural heritage and impressive historical landmarks. For art lovers, there's the infamous Prado museum in Madrid, the Picasso Museum in Barcelona and the Guggenheim in Bilbao. Architecture enthusiasts will enjoy the Aqueduct in Segovia, the Mezquita in Cordoba and perhaps the most famous palace in Spain, the Alhambra in Granada. Fans of Gaudi will love his work all over Barcelona, especially his most infamously incomplete work, La Sagrada Familia. You can also head south to Andalusia and experience the passionate dance of flamenco, which has been impressing spectators for hundreds of years. 
Together all these structures, art pieces and dances tell the elaborate story of the region from which they originate. So if you're thinking of planning a trip to Spain, here is a list of the top 10 most gay-friendly cities to visit in this European hotspot. Pick one or pick them all and you're sure to be impressed and will head home with memories to last a lifetime. 
Barcelona
Barcelona has been a popular destination for LGBT+ tourists now for at least two decades. You'll find many hotels, restaurants and shops in the city that go out of their way to be gay-friendly. This cosmopolitan city is also popular for its beaches which were developed for the 1992 Olympics and the Catalan capital offers the perfect balance between the city and the sand. From Barcelona, it's also easy to continue down the coastline to beach towns like Sitges or up to the many resorts in the coastal area of Costa Brava. 
The Catalan capital is home to the original Axel Hotel, which opened its doors in 2003 and proclaimed itself the first gay hotel chain not only in Barcelona but also in Spain and even in Europe. Its success proves that a hetero-friendly hotel is in high demand and they have even opened a second property in Barcelona to serve the increase in demand. 
The annual Circuit Festival is held each August and is considered the biggest international gay festival attracting many gays from all over Europe and the world. It now takes place not only in Barcelona but also in Miami and Pattaya, Thailand. Barcelona gay pride also takes place at the end of June but it's nothing compared to Madrid pride in size and scope. Rather than Barcelona Pride, Circuit Festival is really the most known gay event in Barcelona.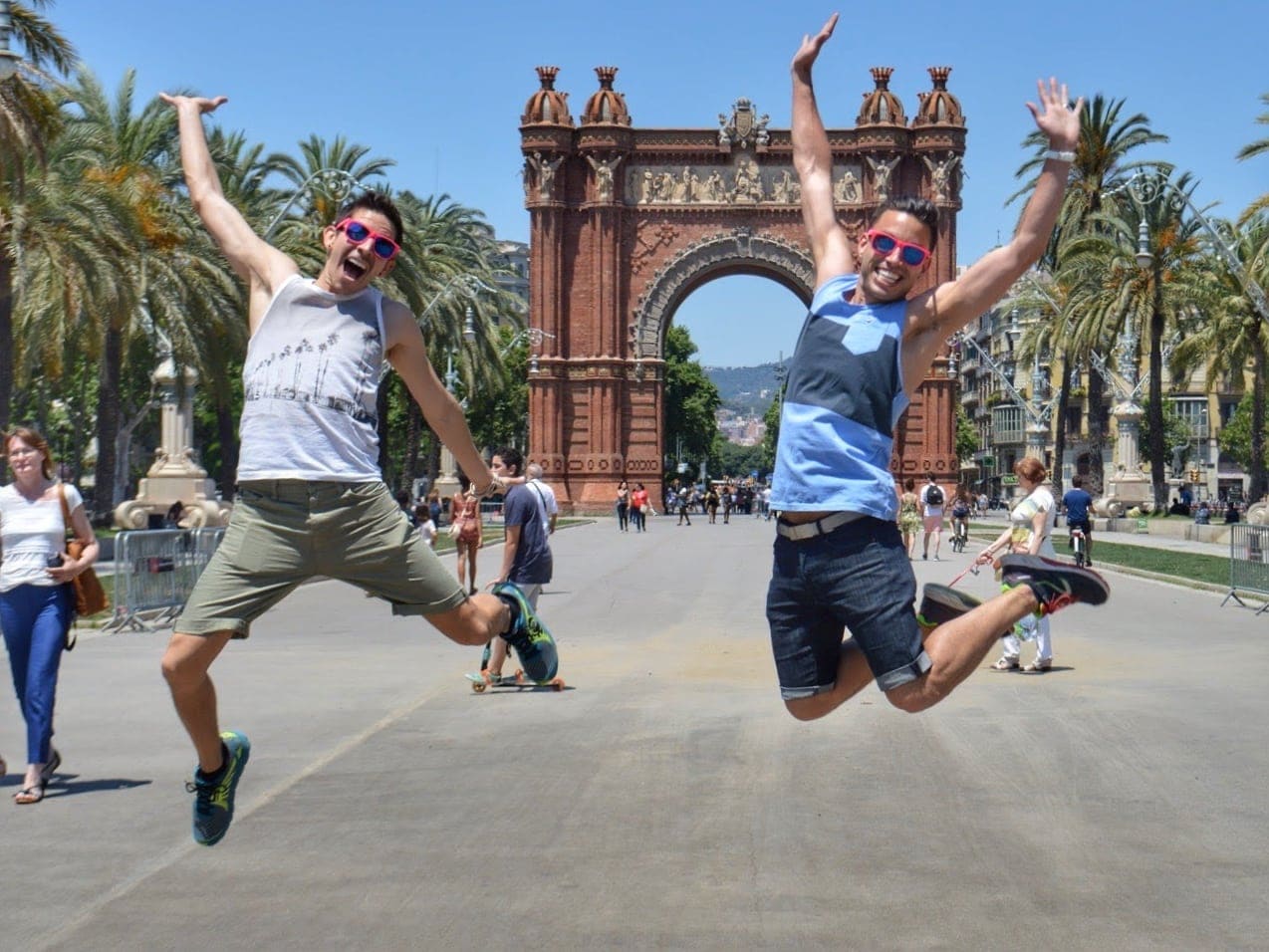 Torremolinos
Torremolinos is located on Spain's southern coast just outside Malaga and features awesome parties and activities in one of the best gay beach cities in Europe. With warm weather, beautiful beaches and an energetic gay nightlife scene that rivals major cities 100 times its size – Torremolinos is the perfect place to party or enjoy a beach vacation. In the summer months, the gays go rushing to this seaside town especially during their annual events like Torremolinos Pride, Mad Bear Beach Weekend, Delice Dream and Wonder Beach Festival. There are three gay beaches to pick from, the most popular being El Gato/Eden Beach where you'll find beautiful views of all the beautiful men. It's easy to get to from the center of town and popular for visitors and locals.
Torremolinos was a gay hotspot that started in the 1960s when its first gay bar opened. Some go to relax on the warm sandy beaches, to party in the gayborhood of La Nogalera or for shopping along the pedestrian street of Calle San Miguel. Plenty of year-round sunshine makes it an ideal place for vacation and breezes from the sea keep the summer heat tolerable. It's the perfect place to get a great tan and enjoy some outdoor activities. Torremolinos is well known as one of the most gay-friendly cities in Spain and you'll see a large representation of both LGBT+ visitors and locals. It is, however, primarily a beach resort town and there aren't many historic sites or monuments. For those looking to do a bit more sightseeing, you'll want to take the regional train to Malaga, which is just a 20-minute ride to the center of town. The train stop is located right in the center of town.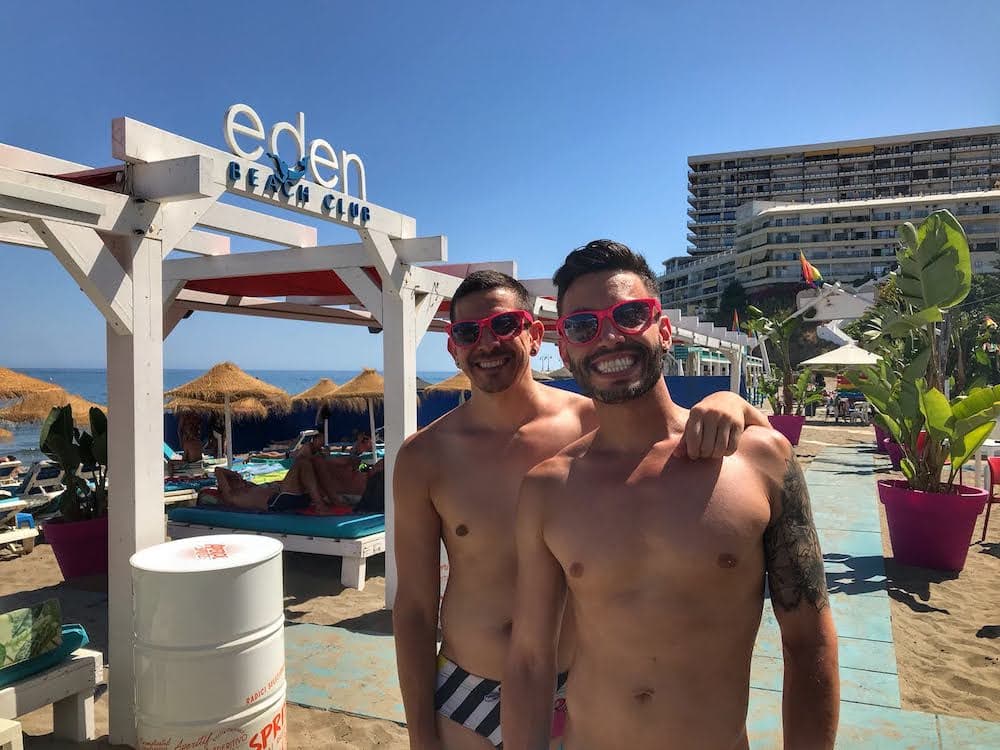 Granada
Granada is an amazing city and must-visit destination in the region of Andalusia. The history, the culture and the beauty give it a reputation that it absolutely lives up to. The city sits in a valley at the base of the snow-capped, Sierra Nevada mountain range. Towering over the city is the famous Alhambra, a former Moorish palace complex that dates from the 9th century. It is a stunning place and a UNESCO World Heritage Site. 
A visit to the Muslim Quarter, known as the Albaicin, is another area in Granada that shouldn't be missed. The quarter is characterized by narrow, winding cobblestone streets, cypress trees, and whitewashed buildings constructed upon the hillside and stretching down into the valley. Opposite the Albaicin, you can find spectacular views of the Alhambra. 
A visit to Andalusia is not complete without seeing a traditional flamenco show. This famous Spanish dance is characterized by precise clapping, sensual hand movements and commanding footwork, which originated from a mix of cultures. Reserve tickets for the show at Venta El Gallo or one of the other nearby places in the Albaicin. 
Each region of Spain is known for different styles of tapas and Granada provides them free with the purchase of a drink, while in other cities like Seville, the tapas are ordered separately. If you visit Granada, be sure tocheck out El Espejo, a tapas bar that is gay-owned and friendly on the wallet.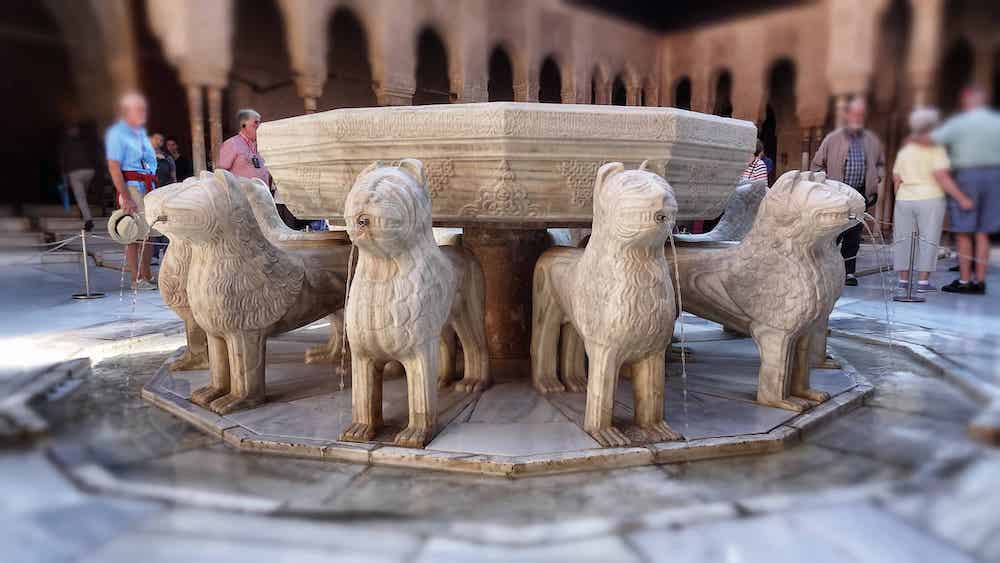 Ibiza
Each summer gays from around the world visit Ibiza. The main city and primary port of the island is named Ibiza Town, which has a commanding and well-preserved walled city sitting atop a hill forming an amazing old town to explore. Es Cavallet is the official gay beach in Ibiza and is about 15 minutes from Ibiza Town. As with most gay beaches, clothing is optional here. Also located at the gay beach is a great restaurant and bar called Chiringay where you can enjoy an incredible cava sangria or lunch while taking in the gorgeous views of all the guys tanning on the beach. 
You may also notice plenty of near-naked guys on the beach with matching speedos passing out flyers. These party promoters are a good way to find out what's happening that night while admiring the messenger. This tradition of promotion can also be found in the historic center of Ibiza Town. The street named Calle de la Virgin is a tiny street that winds its way through the old town and ends at a beautiful viewing point overlooking the port. The street is the center of gay life in Ibiza where you can find lots of gay bars, gay shops, cafes and restaurants. Finally, when in Ibiza visiting the island of Formentera is a great day trip and there you'll find Playa de Ses Illetes, voted the best beach on Tripadvisor. Formentera is a small island located a short ferry ride from Ibiza. It is the smallest of the four populated Balearic islands which also include Ibiza, Mallorca and Menorca. When visiting Ibiza, you can find bus service around the island but taxis tend to be more convenient. But if you really want to be independent and visit all the best coves and beaches with the most incredible views, it's best to rent a car to get around the island.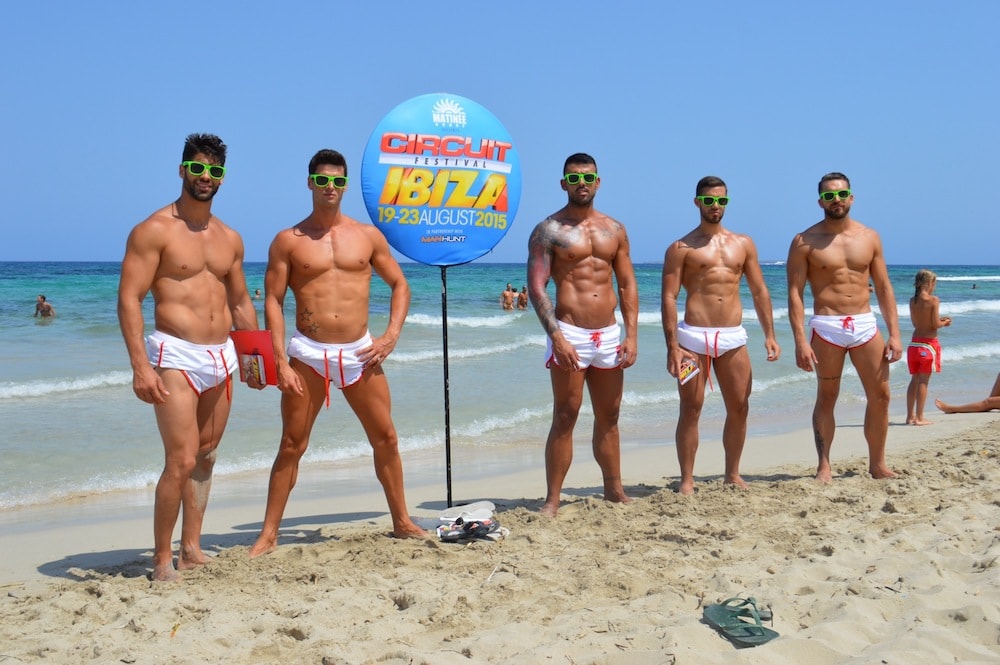 Sitges
A beautiful, small, gay-friendly town 45 minutes south of Barcelona, Sitges is a perfect spot for long stretches of white sandy beaches. Since the town as a whole is incredibly gay-friendly, you'll find LGBT+ beachgoers at most of the 17 beaches. However, Playa De la Bassa Rodona is the official gay beach and preferred by most speedo-wearing, six-pack-flaunting, bronzed gay men. Also located in Sitges is Platja de la Balmins, the primary nude beach. 
At the beginning of the 20th century, Sitges was one of the most dynamic towns along the Catalan coast and several well-known painters were born here during this time. Magnificent Villas were also built during the same time by a generation of modernist architects. 
The LGBT+ fame of Sitges is influenced by gay migration from nearby Barcelona. As LGBT+ people from rural communities have grown up over the decades, they realized their small towns didn't give them the openness and opportunity they wanted in life. Many of those people went to Barcelona but later saw the artistic and open-minded city of Sitges nearby as an option as well. Since then, Sitges has also been a popular place for LGBT+ people to live and vacation.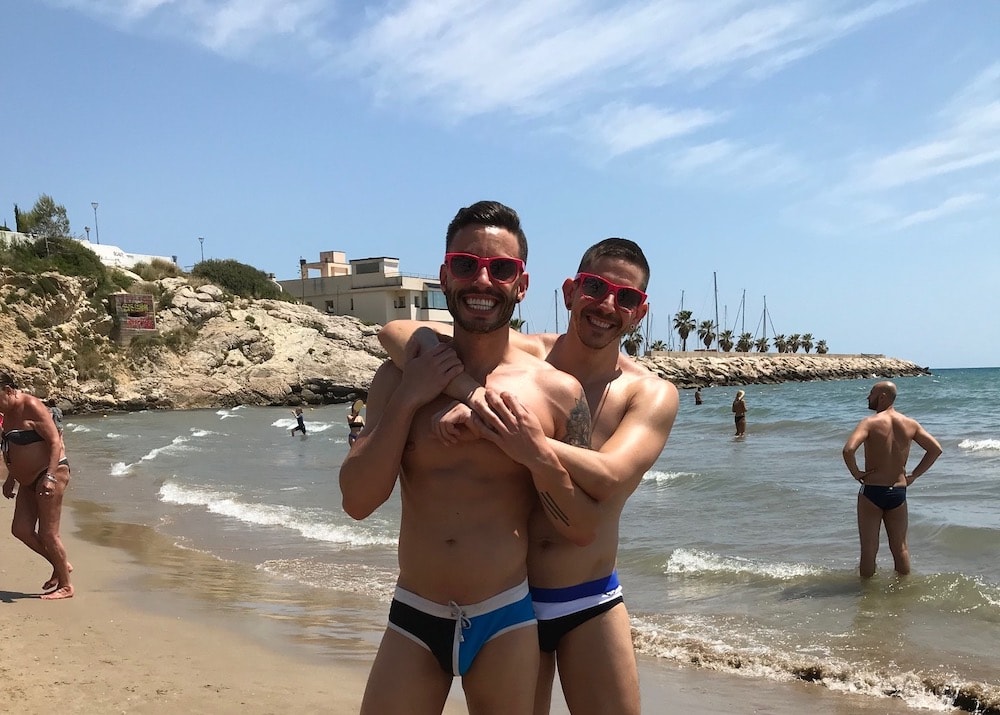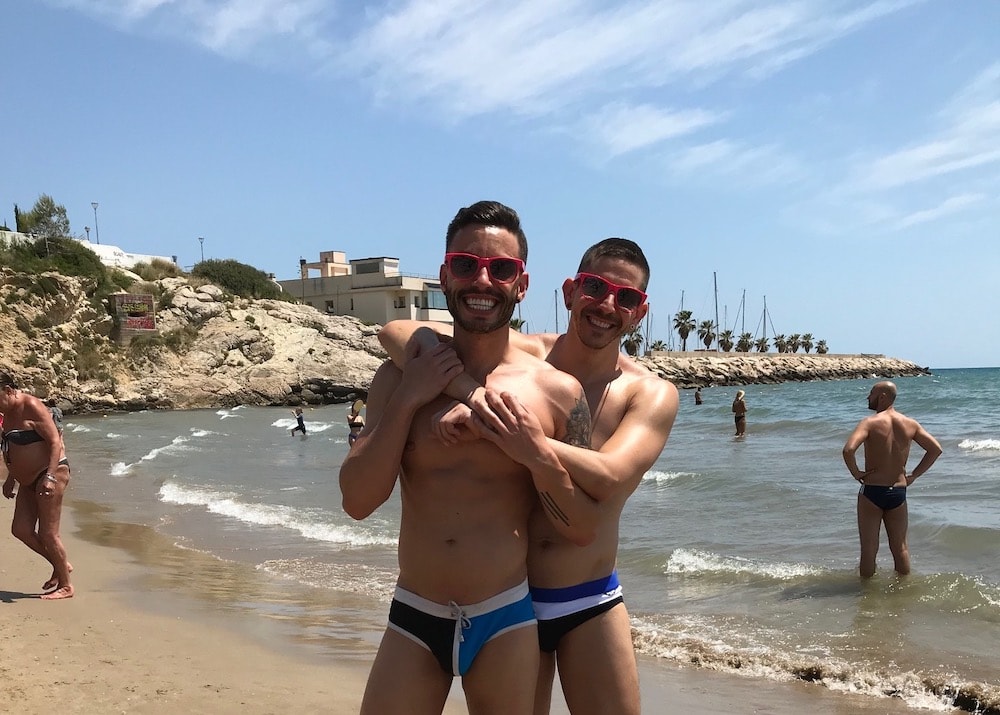 Madrid
Spain isn't all beaches and islands. You'd be wrong to overlook the capital of Madrid as a gay destination. The gayborhood of Chueca is great for shopping, dining and going out in the many bars and clubs. In fact, Madrid is one of the most gay-friendly cities in the world. It's quite common to see same-sex couples walking hand in hand all over the city, not just in Chueca. This openness and acceptance of the LGBT+ community is publicly demonstrated each July when Madrid hosts Europe's largest pride event. It's also the second-largest in the world, just beyond São Paulo in Brazil.
If you haven't yet been to Madrid Pride, then you haven't experienced one of Europe's best. It's often described as organized chaos, perhaps embodying Spanish culture itself. One of the best things about Madrid Pride isn't just its immense size but also how the celebration brings everyone together, gay and straight and everyone else on the spectrum. The whole city turns up and happily participates with a turnout of over 2 million people. In fact, Madrid's turnout in 2017 was over 4 million when it hosted World Pride.
As if Madrid's extravagant pride event isn't reason enough to visit, there are also plenty of annual gay parties throughout the year including the WE Party Festival, which hosts multiple parties over a week's period in Madrid during New Year's and gay pride. Madrid is also a great jumping-off point for quick day trips to impressive historic old towns like Segovia and Toledo which can be reached by high-speed train in just 30 minutes.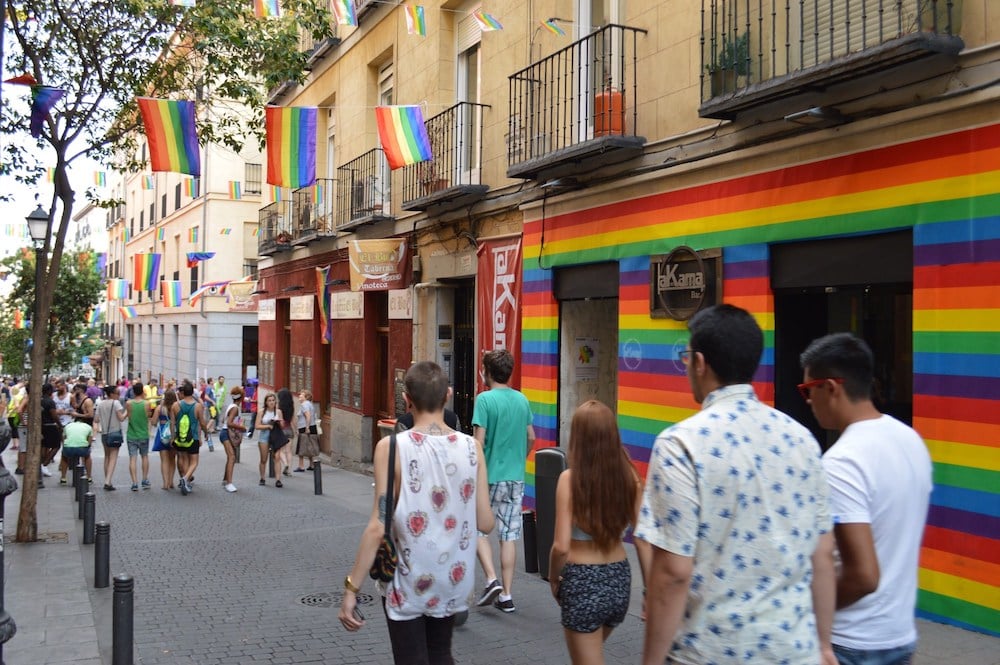 Seville
Seville is the capital of the region of Andalusia and the 4th most populous city in Spain. It was the center of Spanish power centuries ago and the history, architecture and monuments here pay tribute to this time period. 
Visit the Seville Cathedral and you can see the burial site of Christopher Columbus. The tomb commands an audience as it is being lifted by individuals representing the four kingdoms of Spain during his lifetime. Whether or not they are truly his remains inside is still debated. Also within the cathedral is the Giralda, a bell tower offering a great view of the city after an easy climb up the ramps to the top. You can also check out a free walking tour of the city if you're on a budget. 
Lastly, be sure to visit Plaza de España located in Parque de María Luisa. The central building in the plaza is a gorgeous construction designed by Aníbal González and mainly for government use today. It was also used for scenes of the planet Naboo in Star Wars Episode I and Episode II. It is definitely one of the top sights in Seville.
Valencia
If you come to Valencia you must try one of Spain's most famous dishes, paella. However, be warned because finding bad paella is easier than finding a good one. See those large, colorful pictures of bright yellow rice adorning restaurant exteriors? Run. Paella has earned a reputation as Spain's most recognizable dish, but it's actually a regional specialty native to Valencia, a colorful and vibrant destination on the country's east coast. While it's not impossible to find decent paella outside of Valencia, more often than not you'll be served quickly reheated rice. A good paella, as a rule, should take at least 20 minutes to prepare fresh to order, and the dish tends to be at its best in its sunny homeland. If you should find yourself in the gorgeous Mediterranean metropolis, try authentic paella at lesbian-owned L'Aplec, which uses farm-fresh ingredients to create some of the most flavorful rice you'll ever eat. Besides sampling the local cuisine, you can check out Valencia's beaches, historic old town as well as the gay nightlife offered by Spain's third-largest city. 
Valencia is also famous for the event called Las Fallas taking place in March each year. This annual event is held in celebration of Saint Joseph and involves the construction of las fallas. These are large wooden structures that are covered with papier-mâché and painted creating hundreds of relevant and often satirical monuments of art. They are created by the individual neighborhoods of Valencia and all except one are burned on the final night of the five-day event. There's also lots of music, fireworks and a parade all in a general street party atmosphere. This event is a great way to close out the winter and welcome the coming spring.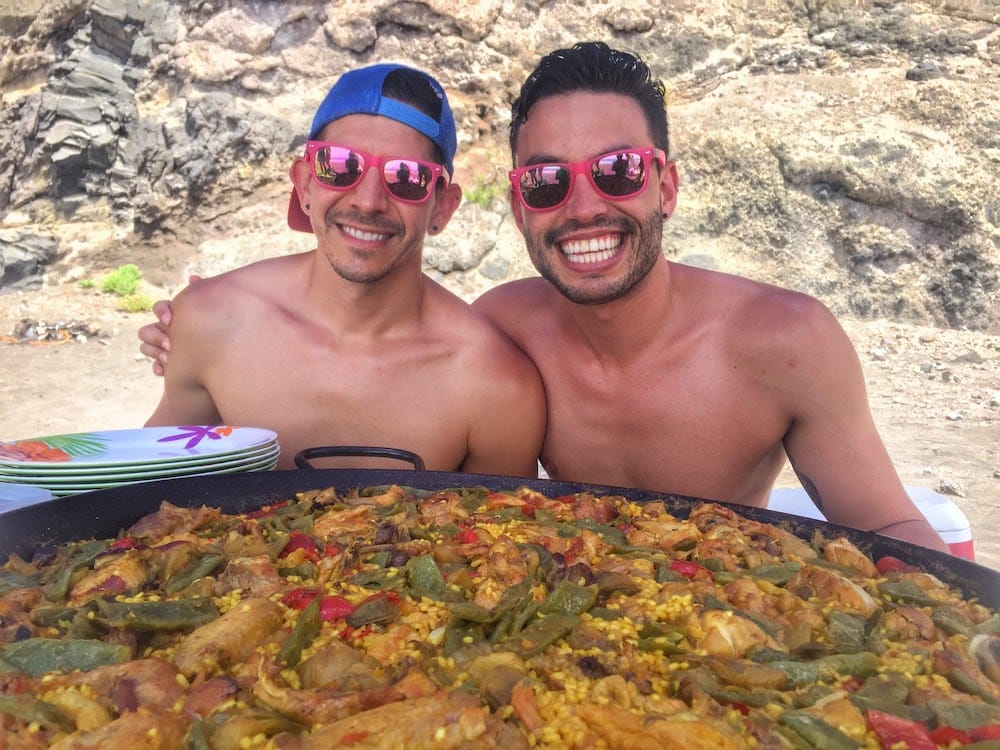 Maspalomas
Gran Canaria is the third largest of the Canary Islands and lies off the western coast of Africa, some 1,000 miles from mainland Spain. The subtropical climate provides year-round warm weather. While the entire island is very gay-friendly, Maspalomas is the star and gay haven. It even has its own annual gay pride going on now for a couple of decades. It is also one of the cities in Spain famous for celebrating carnival and the highlight is the elaborate drag performances that take place during the week of parades and celebrations.
The Maspalomas shore is organized in sections that can be easily distinguished with numbered beach kiosks. At the Playa del Inglés, the gay area can be found in the surroundings of kiosk nº7, where nudism is widespread although not mandatory. The official nudist area is located in the surroundings of kiosk nº4, although the gays tend to establish themselves around kiosk nº7.
Famed for its vast expanse of sand dunes next to the beach, Maspalomas has mainly developed around the tourism industry. Despite this, its policy of urbanization has avoided mass high-rise hotels and instead, the area tends to offer visitors bungalow accommodation, preserving the aesthetic beauty of the area as much as is possible in a tourist hot spot.
There are a large number of gay-only hotels and resorts in Maspalomas many of which are clothing optional. They are often fully booked in high season so it's advised to book well in advance. The gay bars in Maspalomas are fairly busy all year round. All of the action takes place in the Yumbo Center where you'll find a large selection of bars and clubs. Be sure to catch one of the drag shows which are hosted in both English and Spanish. Transport, accommodations, eating and drinking in Maspalomas are also substantially cheaper than most places in Europe, a great bonus to your Spanish island vacation. 
Santiago
Another well-known city in Spain is Santiago de Compostela, which is located in the autonomous region of Galicia. The region has its own official language called Gallego, which is similar to Portuguese. Unlike the rest of Spain, the region of Galicia is not hot and dry. In fact, Galicia is green and gets lots of rain. Given its location on the northern coast, it makes for a nice summer destination because the weather is much cooler than in other regions. 
The path leading to this city is where you'll hike the final leg of the Camino de Santiago. This world-famous pilgrimage takes you through beautiful landscapes of Galicia which is also well known for delicious wines, cheeses and seafood. You see lots of hikers in this city who have made the journey on the Camino ending in Santiago, where they visit the world-renowned cathedral of Saint James. By ending your trek here, you'll qualify for the Pilgrim's Compostela, a certificate of completion of the exhilarating excursion.
St. James is the patron saint of Spain and each summer on July 25 a public holiday in his name is celebrated in Galicia. The main celebration is in the capital of Santiago. The days leading up to El Día de Santiago are filled with exhibitions, theatrical and street performances, concerts and parties.