This post was updated on May 15, 2020.
At the northern edge of the Adriatic Sea, just east of the Italian coast sits unspoiled coastline, beaches and bright blue waters home to the country of Croatia. Formerly part of Yugoslavia, this country has been independent for 25 years and has grown into a modern European destination not to be missed. With a thousand islands, delicious cuisine, stunning nature and a mild Mediterranean climate, this country has recently made its way to the top of many traveler's bucket list.
You won't find the mega gay parties like those in Barcelona or Berlin, nor will you find massive gay pride festivals like those in Madrid, Stockholm or Amsterdam. But while Croatia isn't known for having a big LGBT scene in the traditional scene, it doesn't make it any less appealing as a destination. In fact, it might even be a good reason to add some variety to your travels and explore a new destination you might not have considered before.
We've teamed up with our friends at Detours Travel who just announced new gay group trips to this fantastic country. So if you've never thought about visiting before, here is a rundown of 7 reasons why you might want to add Croatia to your gay travel bucket list.
---
View Available Trips to Croatia
---
Amazing Islands and Beautiful Waters
Croatia is well known for having more than 1,000 islands and amazingly blue waters perfect for swimming, boating or enjoying a relaxing day at the beach. Sail along the coast or island hop to fun destinations like Hvar and enjoy the laid-back island life. Did somebody say Mediterranean beach vacation?
Well Preserved History & Ancient Cities
You'll be amazed by some of Croatia's best old cities like Split, Zadar, Dubrovnik or Korucla – known as the birthplace of the famous merchant Marco Polo. Many of these coastal cities were major maritime ports and commercial centers on the Adriatic Sea and they have been well preserved and make for great visits almost any time of the year.
The Underrated Capital City
Zagreb is probably one of the more underrated cities worth visiting in Croatia. In fact, one sixth of the country's population lives here and it's hardly overrun with tourists. You'll get a great sense of modern Croatia and how the locals live with some optional visits to the gay nightlife scene. As a relatively small capital city, the options are still somewhat limited but this is really the only place in the country where you'll find dedicated LGBT venues. In Zagreb, you'll also find an old-world experience with a well preserved old town, interesting museums and a thriving café culture.
Impressive National Parks
Croatia is full of national parks spanning the country that offer a diverse look into the natural beauty of the country and its landscape. One of the most famous parks and a UNESCO World Heritage Site is Plitvice Park. This park is famous for 16 different lakes that cascade into each other through a network of picturesque waterfalls. Pack your selfie stick, snap a few shots and make all your friends at home jealous!
The Stunning City of Dubrovnik
Nicknamed the "Pearl of the Adriatic," Dubrovnik is probably Croatia's most famous city. This medieval seaside town is well preserved and it's surrounded by massive old city walls from the 16th century that guard its inner town and narrow, cobblestone streets. The old city of Dubrovnik has been declared a UNESCO World Heritage Site and has a ton of attractions. It's worth staying here at least a couple of days to get a good feel for the city and see all the sites.
Beaches Galore
You don't have to go far to find great beaches in Croatia. From the isolated and deserted beaches on the tiny islands and coastal cities, to some of the more popular beaches, this country offers great beach weather for nearly half the year. There are plenty of options across the country though some of the best are in the south. The tiny island of Susak offers deserted sandy beaches great for those wanting to get away. Or for the partier and social beach goer, head to island of Hvar and sunbath with plenty of fellow island visitors.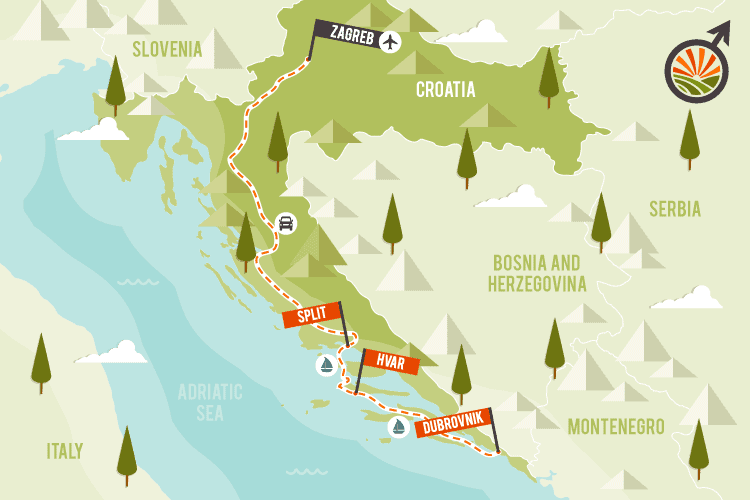 Rich Mediterranean Food
Croatian food embodies a fresh Mediterranean cuisine and has had a mix of influences over the centuries from the Italians, Turkish, Hungarians and more. You'll find plenty of fresh fish, pastas and risottos, cured meats and cheeses as well as hearty stews. Croatia also has a strong wine culture and you'll find more than 300 vineyards across the countryside, peninsulas and islands. And much like many of the southern European countries, café culture is huge in Croatia and won't have problems finding alfresco dining full of people relaxing with a nice drink or meal, hardly eager to rush this enjoyable culinary experience.
We definitely recommend checking out a group tour with Detours Travel to Croatia. Not only will they plan all the necessary details, but you'll be joined by a group of friendly gays – both singles, couples and friends traveling together all in the company of knowledge, local guides. So why not take that trip you've always dreamed of? Go alone or bring a friend to experience the destination in a social setting that will make your trip unforgettable. We think there's nothing quite like it and we're certain you'll discover the same.
Note: This article was sponsored by Detours Travel, however rest assured all opinions are 100% our own and we would never sacrifice our integrity for a sponsorship.