Arguably two of the best European Prides hail from the Iberian Peninsula. Madrid and Barcelona are two incredible destinations for queer travelers any time of year with Spain's long reputation for being LGBT friendly. While both have much in common as Spain's two largest cities, they offer two very unique experiences and our friends at Rainbow Gay Tours can show you both. But which Spanish pride is for you? Let's compare…
The History
The region of Catalonia, of which Barcelona is the capital, was the first region in Spain to recognize same-sex domestic partnerships back in the 90's so they've always been ahead of the game. In fact, the first pride demonstration in Spain was first held in Barcelona in 1977, but Madrid was not far behind with theirs in 1978. Then about 40 years later Madrid would go on to host an incredible WorldPride in 2017. Madrid's pride is by far the larger one between them with roughly 1.5 million attendees, and is also the largest in Europe. However, what Barcelona Pride lacks in size, it makes up for with its striking setting – being an architecturally rich city with a gorgeous seaside.
The Pride Village
Both destinations offer a range of pride events you would expect from any large metropolitan city but each has its own unique touch. Barcelona Pride starts June 27th, 2019 with an opening ceremony and party at Plaza Universitat. Madrid's equivalent opening speeches are at Plaza de Chueca just a week later on July 3rd, 2019. Barcelona Pride also has a fantastic Pride Village where many of the pride activities take place. Madrid, however, has no single Pride Village and instead opts to use its many public squares for a similar function with stages set up at various locations in the center for outdoor performances and entertainment.
Party, Party, Party!
Another stand out event for Barcelona Pride is their outdoor foam party. I mean, who does that?? It's really one of the most original parties we've ever been to. This free event is open to the public and allows LGBT and allied community to come together to celebrate a party full of diversity. You'll find foreigners, locals and people of all ages dancing the night away to great music in a dance floor full of studs. I mean suds. Actually, both. Plus they've also got the Holi Party, an Indian-style festival of colors where people throw colored powder into the air and all over each other all while adding water to the mix.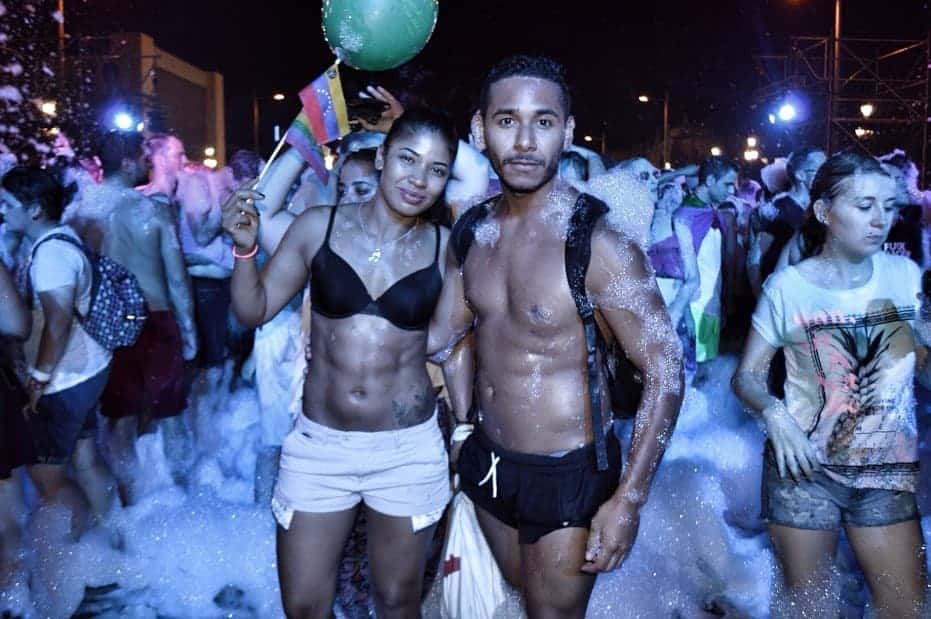 Madrid may not have that style of parties going on, but with the WE Pride Festival, the party scene in the Spanish capital is non-stop the week of pride. The WE Pride Festival puts on a week of themed parties at the city's best venues every night during pride week. You can buy a ticket to one or two that interest you or buy a bracelet for access to them all. Let your inner party monster decide.
The Festivities
On the agenda at both prides are the high heels race, activities for kids and pageant competitions. Madrid has Mr Gay Spain, a public competition where handsome men from around the country compete to be named the winner and receive the official title. Barcelona gives you Miss Drag Pride Barcelona. It's still got handsome men but dressed as women celebrating their artistic sides. Expect lots of sassy drag entertainment!
The Parades
When it comes to the pride parades, both cities put on a great show. People partying on floats with great music venture through the city centers while onlookers enjoy the show from the sides with friends and libations. Both pride parades start in the late afternoon finish at an outdoor party with live music, shows and more fabulous celebration time into the night.
About the Cities
Both cities are very LGBT-friendly which extends beyond their respective gayborhoods, Gaixample in Barcelona and Chueca in Madrid. Madrid has a larger gay scene given it's twice the population with more than 200+ LGBT specific venues including bars, clubs, shops, saunas and more to keep you busy and entertained throughout your visit. Barcelona offers the same on a more intimate scale, but by no means small. Plus, it's got its distinct Catalan culture that also distinguishes it from Madrid and the rest of Spain.
Get Wet!
One of the best parts of Barcelona is also getting to be in a big city with the sandy perks of a beach town. Unlike Barcelona with its four-kilometer city beach, Madrid has no such ocean view and its river leaves much to be desired. However, when Madrileños do need to cool off they head to one of several community pools. During pride there's even the WE Pride Festival pool party Sundia which is one of our favorite parties of the year. The focus isn't so much on swimming and tanning as it is on dancing to great music in your speedo with hundreds of other pride go-ers.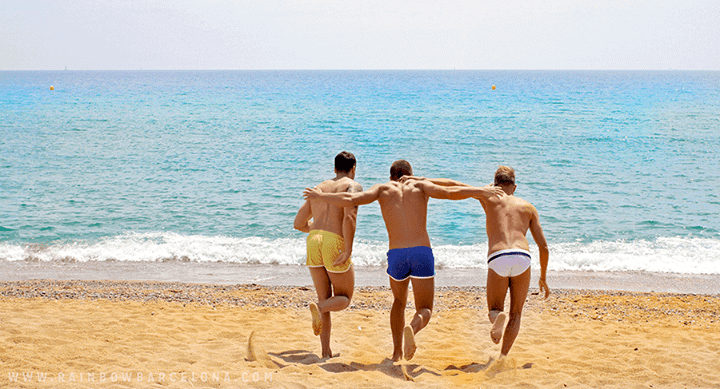 If you're looking for a more relaxed swimming and tanning situation, Barcelona's got it. There are two different gay beaches in Barcelona to choose from. The first is called Platja de Sant Sebastià and the other gay beach is called Platja de la Mar Bella which is a clothing optional beach farther out from the center on the northern end of the city's beachfront. This is where you'll also find the popular hangout called Chiringuito BeGay, a restaurant and bar where the gays go have a drink or a meal while taking in the afternoon sun.
So, What's it Gonna Be?
By now you've got a good rundown of each pride and Rainbow Gay Tours can be your guide throughout either one. In Barcelona they'll also take you to our absolute favorite beach destination, Sitges. In Madrid they'll take you on a thorough tour of the city to see all the main sights and squares including the Almudena Cathedral, the Royal Palace, the Plaza de Oriente and the Teatro Real. Similarly, the Barcelona tour will show you all the most important iconic landmarks of the Gothic Quarter, Gaudi's works and more. If you've wasted all your time comparing these cities' prides and still can't make up your mind, do both! After all, Madrid Pride conveniently follows Barcelona's. We've attended both events and can't recommend them enough. If you're looking to join a gay group tour, Rainbow Tours will expertly steer you through them, so you can focus on the fun!
Have you visited Barcelona or Madrid before? Which pride would you choose?
Note: this article was written in collaboration with Rainbow Gay Tours. As always, rest assured all opinions are 100% our own and we don't sacrifice our integrity for a sponsorship. In fact, we've attended both prides and would absolutely recommend them to anyone interested in visiting.  Featured image credit: Sasha Charoensub