Copenhagen is an urban city with a population creeping just over a million inhabitants. Famous for its Michelin-starred restaurants, buildings with colorful facades along the Nyhavn waterfront, bike culture that rivals that of Amsterdam, bold and unique architecture, historic landmarks and monuments and Tivoli, the second oldest amusement park in the world, there's something here for every kind of traveler. The city is also especially gay-friendly with a small, but noteworthy collection of gay bars clustered around Rodhuspladsen, the city hall square in the center. In fact, Denmark itself was the first country in the world to legalize same-sex unions back in 1989 and has since legalized same-sex marriage in 2012. Copenhagen is also known for its annual Pride celebration in August. This event is filled with drag performances, discussions related to LGBT issues, short films, parties, and of course a pride parade that had over 20,000 people participating and more than 120,000 spectators in 2014.
When visiting Copenhagen as an LGBT traveler, it's important to be located in an ideal area to easily get around. I found staying at the Andersen Boutique Hotel to be a great place to unpack my bags for a long weekend in the Danish capital city. The Andersen Boutique Hotel is not a specifically gay hotel, but it is gay-friendly and the front desk even showed off rainbow flags in support of the recent Copenhagen Pride event in August that brought me to the city. It's well situated in the center, near the Meatpacking District and right next to the Copenhagen Central Station making arrival to and from Copenhagen, by train or by plane, quite easy. The neighborhood, today known as Vesterbro, was the former red light district in Copenhagen, but today it's an up and coming trendy area for cafes, restaurants, and bars. The gay area of the city is just ten minutes away on foot, though in a city like Copenhagen one should really travel by bike. Luckily for its guests the hotel also has a bike rental at the reception for about DKK 100 ($15) per day.
The lobby of the Andersen Hotel is tastefully decorated with pops of bright pink and purple colors throughout and on the walls hang brightly painted artwork. The general manager, Karen Nedergaard, mentioned that upon opening the hotel two years ago, her family inquired if she was opening a gay hotel. Her reply was "no," and that she was opening a hotel for everyone — a hotel that, unlike most hotels in Copenhagen, would be colorful instead of bland and subdued. The hotel was named after her grandmother, Erna Andersen, who founded the Absalan Hotel Group which now includes Andersen Boutique Hotel, the 4-star Absalon Hotel and Annex Copenhagen, a budget hostel.
The staff was incredibly helpful and friendly upon check-in and throughout my stay. The single elevator up to the room is a bit cumbersome as it slowly has to make its way among the five floors so I often used the stairs to get down from my fourth floor room. The 73 rooms of the hotel are decorated similarly to the lobby, again with fun and energetic color palettes. The bed in my room, like in most hotels, was delightfully more comfortable than the one I've got at home. The rooms are also equipped with the main necessities including free wifi, a television and a small fridge. There are four different accommodation options with specific color themes to choose from including Princess, Mermaid or Emperor. The Cool Standard Room starts at about DKK 1145 ($170) and then there's the larger Brilliant Deluxe room, the Wonderful room with a lounge sofa corner, and the even more spacious Amazing Junior Suite with its very own yellow rubber duck in the bath that's all yours. Seriously!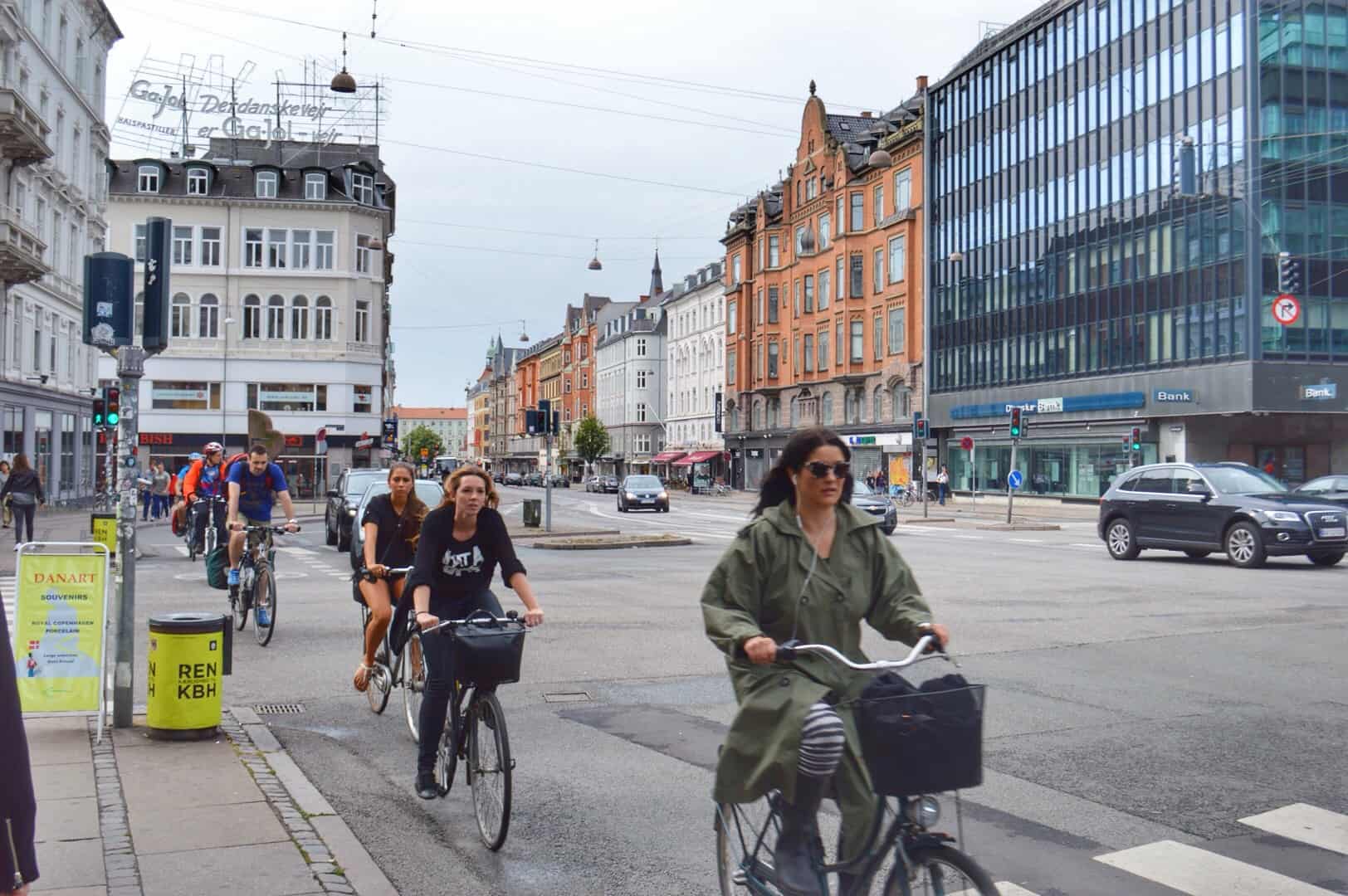 Breakfast is served until 11am, a bit later than most hotels and much appreciated for those of us that enjoy sleeping in. They have a decent spread of the typical hotel buffet breakfast of meats, cheeses, fruits, vegetables, yogurt, bread, and pastries and some hot dishes including eggs and sausages. The drip coffee included is a bit bland, though you can also purchase a quality cafe latte or cappuccino for DKK 25 ($1.60). In the evenings from 5-6pm, you can enjoy a complimentary glass of wine offered in the lobby, a perfect aperitif before going out into the center for a Danish dinner. There's also a small bar in the lobby where you can make your own cocktail and pay on the honor system. A list of cocktail suggestions sits on the bar. There are also monthly events held in the lobby of the hotel such as the upcoming photo exhibition with the opportunity to meet the artist.
Another unique attribute to this accommodation in Copenhagen is their Concept24 booking which allows you to book the room for a full 24 hours regardless of your check in time at no additional cost. This is a great attribute for those checking in a bit later in the evening or night and intend to catch up on some sleep the following day. The striking, fun and friendly Andersen Boutique Hotel was a perfect compliment to my first stay in Copenhagen. It's stylish and trendy theme matched the vibrant ambiance of the very neighborhood it's located in. It's no wonder the hotel won the "Luxury Boutique Hotel" award in 2014 from World Luxury Hotel Awards, though is still moderately priced among luxury hotel standards. My stay at the Andersen Boutique Hotel was quite a delight as I discovered the beauty, history, and queer culture of Copenhagen.