This post was updated February 20th, 2020.
Torremolinos was a gay hotspot that started in the 1960s when its first gay bar opened. Today, it may seem a little outdated as the 60's and 70's style is largely still present, but its relevance to the LGBT community remains strong as many gays continue to head there during the warmer months or for specific events like Torremolinos Pride and Bear Week. Some go to relax on the warm sandy beaches, to party in the gayborhood of La Nogalera or for shopping along the pedestrian street of Calle San Miguel. Whatever your interests may be, here are some reasons why this former fishing village in the south of Spain is worth checking out.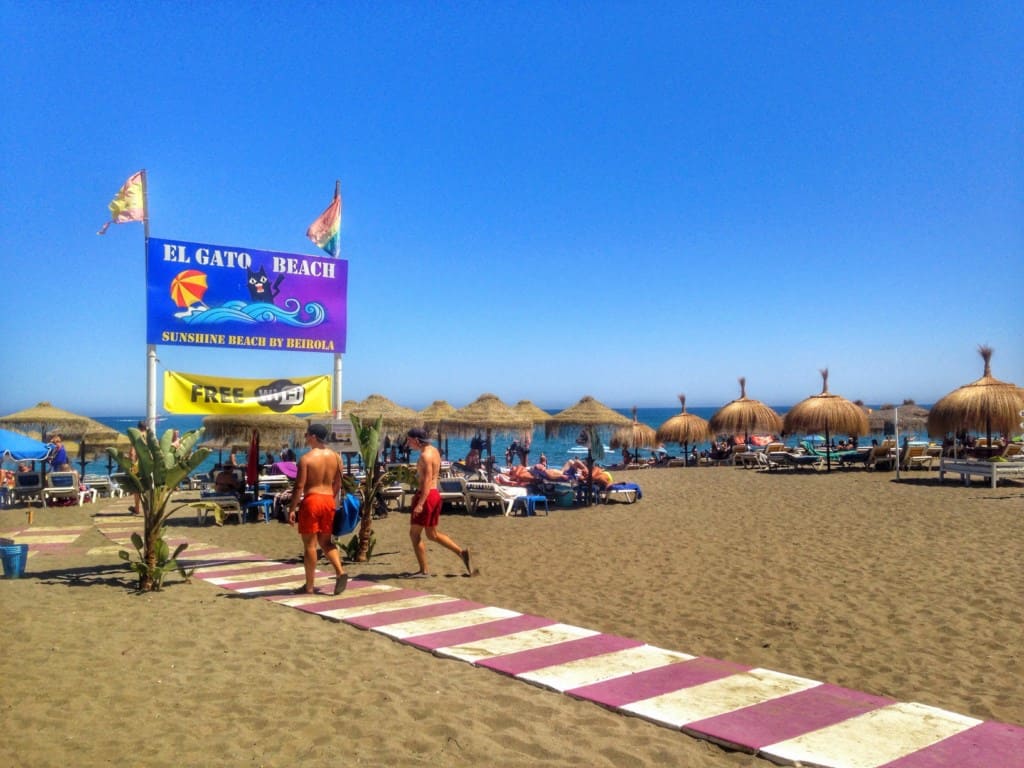 Weather
Located just west of Malaga in Andalusia, the city experiences a subtropical, Mediterranean climate providing mild winters followed by hot summers. Plenty of year round sunshine makes it an ideal place for a vacation and breezes from the sea keep the summer heat tolerable. It's the perfect place to get a great tan and enjoy some outdoor activities.
LGBT Events
There are plenty of great LGBT events held every year in Torremolinos providing a great excuse to visit the city. Torremolinos of course has its own gay pride event which occurs in June every year. In 2016, WonderBeach Festival came to Torremolinos in early July. This five day celebration is filled with concerts and some of the most well known parties in Spain including WE Party, My Pleasure and PAPA Party – hosted by Eliad Cohen. Lastly, there's the Mad Bear Beach Festival which is a long weekend full of parties for, you guessed it, bears!
For more than a decade, Delice Dream brings their popular festival to Spain, now to the gay-friendly town of Torremolinos. This event features awesome parties and activities in one of the best gay beach cities in Europe. Just a brief sample of the carryings-on: a drag queen and best bum contest, barbecue, pool party, Grindr party and appearances by numerous gay-lebrities. Check their website to get the lowdown and explore your options for hotels, tickets plus this year's program and more.
Beaches
The sand at the beaches in Torremolinos is perfect for lying out and soaking up the sun. For the gays, there are three main beaches to choose from. El Gato/Eden Beach is a popular gay beach with plenty of gorgeous guys to keep your eyes busy. Both tourists and locals go here and it's quite accessible from the main part of town. Poseidon Beach right next to the restaurant by the same name was a more popular gay beach a couple decades ago. Nowadays it's become less popular with the gays having more straight visitors and families. For a cruising/nude beach, Guadalmar Beach is a mixed nude beach farther out from the city between Torremolinos and Malaga near the Campo Golf Course.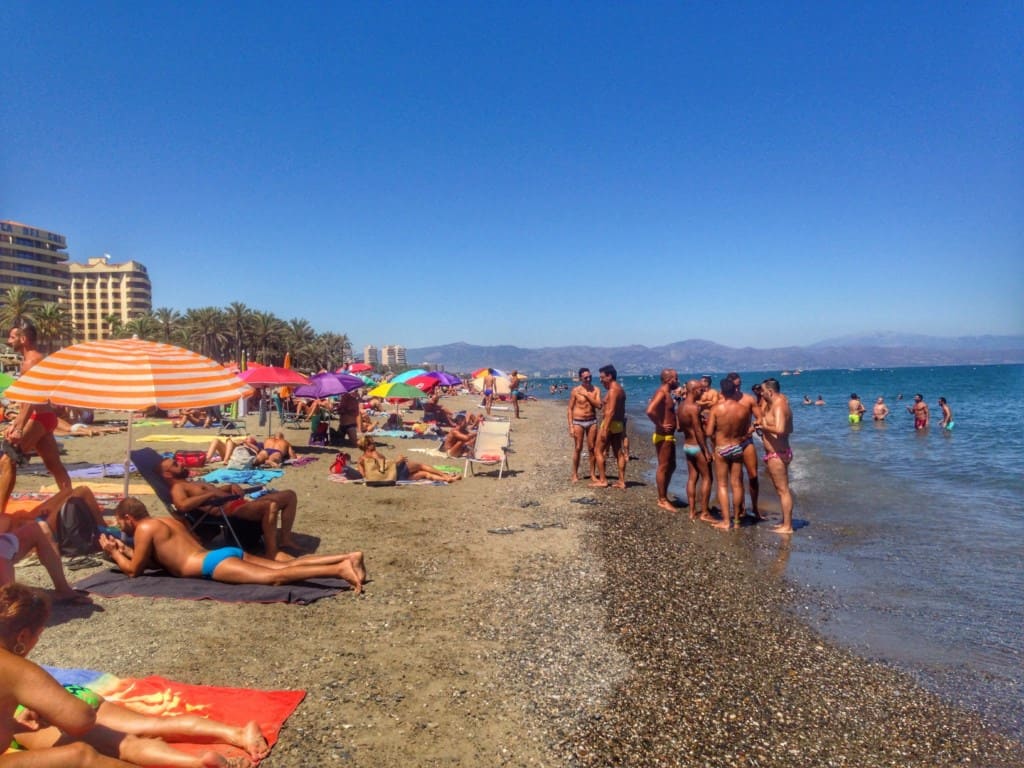 Gay Nightlife
The gay nightlife in Torremolinos is quite a fun scene and has something for everyone. The gay area, La Nogalera, is in a little crowded pocket behind some local businesses. You can walk right past it and not even realize, but once you turn down the right street you'll find rows of gay bars huddled together with outdoor terraces lining the street. They all start picking up after midnight and just a tip, the bar Eden Copas has some of the cutest servers! For bears, head to Bacchus; for drag shows go to Contacto, and for a mixed scene check out Chessa Bar. Parthenon Club is a really popular place for 18-30 year olds with underground/house music. There's plenty of cruising bars like Free Eagle, Men's Bar and Querell. Lastly, there's Centuryon Club generally attracting 20-30 year olds. It's mostly house music and charges a cover for entrance. With so many options, you're bound to find your perfect place!
La Carihuela
La Punta de Torremolinos is a small little cliff point that separates the north side of the city known as El Bajondillo from the south side known as La Carihuela. This area was a former fishing village in Torremolinos until tourism started booming in the 1950s bringing about many restaurants, shops and hotels. The most common dish to get here is definitely "pescaíto frito" or small fried fish. This is also a great area to relax on the beach also called La Carihuela Beach with just over 2 kilometers of coastline. Though little remains of the traditional looking old quarters, La Carihuela is still a cute area to take a stroll, visit some shops and enjoy a nice meal by the beach.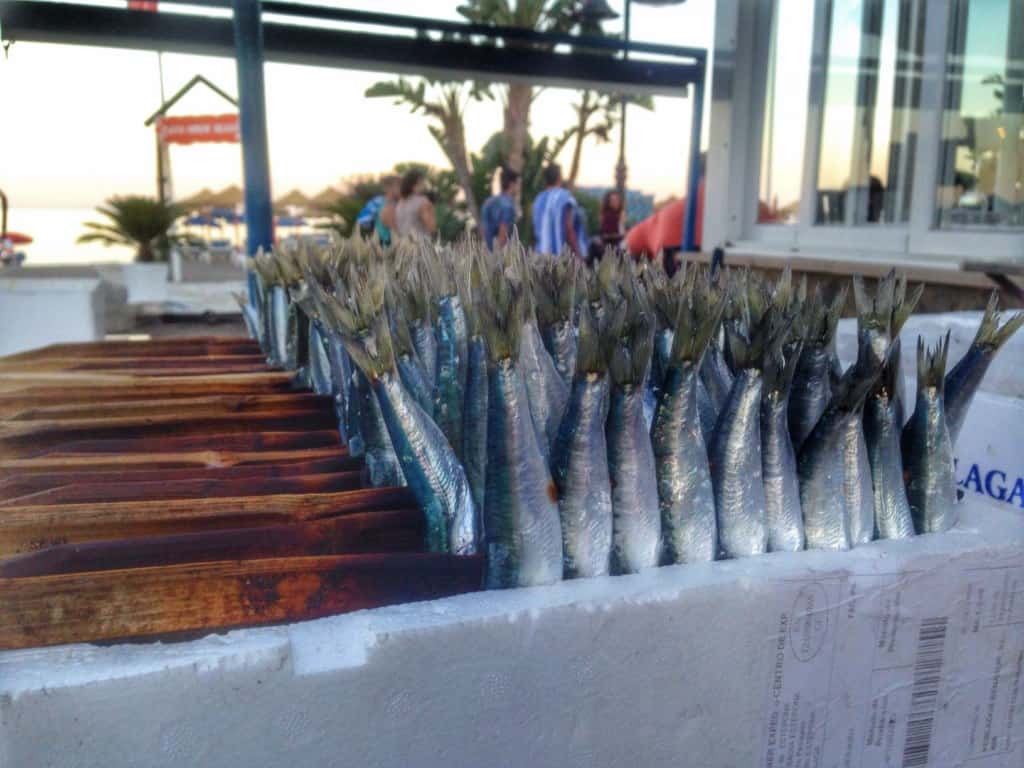 Have you ever heard of Torremolinos? Which of these reasons most makes you want to visit? Let us know in the comments below.
Note: This article was sponsored by Visit Gay Spain, however rest assured all opinions are 100% our own and we would never sacrifice our integrity for a sponsorship. In fact, anyone that knows us well can attest to our love for Spain – a destination we would recommend to anyone.