This post was updated on February 3rd, 2020.
As winter sets in, gone are the long and warm summer days that host brightly-colored gay pride festivals around the world. So planning a winter trip to a gay pride event or another LGBT-oriented activity may not be the first thing on your mind. But this list of winter pride events brings both traditional gay pride festivals in warm climates and also true winter events like European gay ski weeks and a totally unique winter pride gathering in Iceland, arguably the most gay friendly country in the world.
Sure, you could wait until summertime to attend the more popular festivals in the US like San Francisco or Chicago Pride, or maybe visit some of the European big hitters like Madrid Gay Pride or Stockholm Pride. But why not mix it up a bit, escape from your winter home and head out to one of these events you've probably never even heard of.
Rainbow Fuerteventura Gay Pride
Rainbow Fuerteventura Gay Pride is a lesser known event in the Canary Islands. Most tourists probably know of the larger and more popular island destinations like Gran Canaria, Tenerife or Lanzarote. But Fuerteventura is an up and coming destination really making efforts to attract LGBT tourists.
What to Expect: The pride event takes place in Corralejo, which is the largest resort town on the island of Fuerteventura. Remember that this is a medium-sized resort town on a lesser known island in the  Canary's, so you shouldn't expect the massive crowds like you would see in Maspalomas. Rainbow Fuerteventura is a smaller event though still one worth checking out, especially if you prefer a more intimate pride event and relaxed beach resort feel.
What's Unique:  Like all the Canary Islands, Fuerteventura enjoys a year-round warm subtropical climate. You'll find welcoming beaches and miles of fascinating sand dunes surrounding the city.
Why Go: Escape the winter weather at home and enjoy an intimate LGBT event in a warm beach destination. Relax by day at the beach and party by night in this charming town that was once just a small fishing village.
Where to Stay: Barcelo Corralejo Bay, Gran Hotel Atlantic Bahia Real, Playa Park Club or Corralejo Beach Hotel Fuerteventura.
Website for more info: Rainbow Fuerteventura (Spanish only)
Note: this event is no longer in production.
Gay Pride Maspalomas (The Winter Edition)
Maspalomas is definitely the most well-known gay hotspot for travelers in the Canary Islands. With its year round subtropical climate, you can go to the beach in the middle of February, or better yet, make a visit to the new "Winter Gay Pride Maspalomas" which takes place in November.
When: November
What to Expect: Maspalomas has been a gay haven for years and countless European's visit the island throughout the year for the gay scene. It's probably one of the larger off season pride events you'll find, though it's not to be compared with its big sister pride held during May. Maspalomas has a vibrant gay scene so you should expect plenty of visitors heading to the island to escape the weather and enjoy the party.
What's Unique: Though just off the coast of northern Africa, these islands are part of Spain and enjoy year round warm weather. Maspalomas is well known as a gay friendly destination with its summer pride event attracting over 100,000 people.
Why Go: It's warm, the beaches are great, the people are sexy and it's a big party. Need we say more?
Where to Stay: Axel Hotel, Bungalows Nayra, Birdcage Gay Resort (all three properties cater to gay clientele) or misterb&b.
Website for more info: Maspalomas Winter Pride
 European Gay Ski Week (Snow Pride)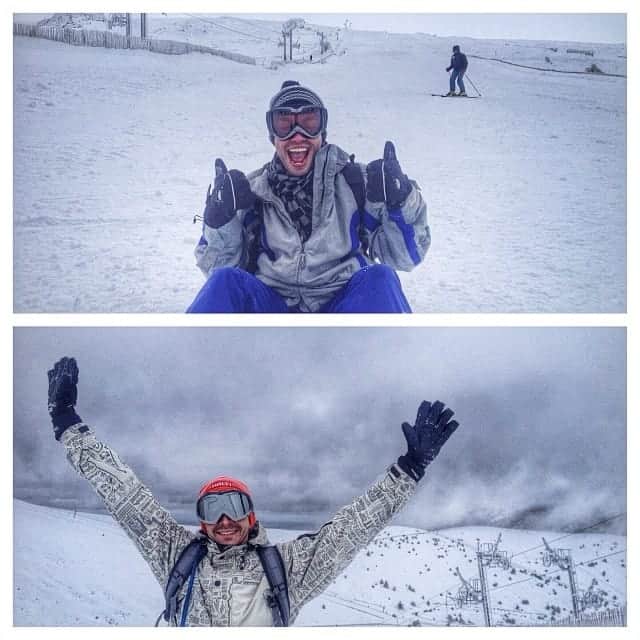 Gay ski weeks have been around for some time and both North America and Europe have their fair share of events. Though if you live in the US or Canada, you might not be aware of the two largest events held in Europe each year – European Gay Ski Week and European Snow Pride. Both events take place in the French Alps and attract crowds from Europe and across the world.
When: March
What to Expect: These ski weeks can attract more than 1,000 people each year during the week-long event. You'll find the biggest crowds during the long weekend since many visitors don't stay for the whole week.
What's Unique: The organizers have a ton of experience with these events and a large budget to provide fun and engaging activities. In addition to hitting the slopes during the day and dancing it up at night, you'll find other activities like pool parties, private mountain tours and cabaret shows.
Why Go: If you're an avid skier or snowboarder then this is the perfect excuse to hit the slopes, meet some new friends and experience an all together fun time in the beautiful French Alps.
Where to Stay: Both events have arrangements with several properties on site. See European Gay Ski Week Accommodation or European Snow Pride Hotels for more information.
Website for more info: European Gay Ski Week or European Snow Pride
Rainbow Reykjavik Pride Festival
Ok, you might be wondering why we would suggest going to Iceland in the winter. After all, Iceland is located just 25 miles south of the Arctic Circle. But Iceland is unique is so many ways and these attributes actually make a winter visit worth considering. Surprisingly, due to the Atlantic Gulf Stream, most of Iceland has a relatively mild winter and sees warmer temperatures than say major cities like Chicago or Stockholm. The event was created by Pink Iceland, a local gay-owned tour company that we highly recommend. The event is now being supported by the Reykjavik city tourism office, IcelandAir as well as many other partners.
When: January/February
What to Expect: Rainbow Reykjavik consists of several parties, dinner events, tours and shows throughout the long weekend. This event is very small by comparison to Reykjavik Gay Pride in the summer, which attracts 100,000 people. The organizers do a great job attracting visitors as well as engaging the local LGBT community during this 4 day event.
What's Unique: Iceland is one of a kind and its geography is breathtaking. After celebrating with a friendly and upbeat crowd, you're just a short trip away from seeing the stunning landscapes of this small island nation. Head to the famous Blue Lagoon to bathe in the naturally heated mineral waters and then head out on a tour to see northern lights.
Why Go: Get to know the small capital of Reykjavik in a city where separation between and gay and straight is hardly necessary. Iceland is one of the most gay-friendly countries in the world and Reykjavik is at its center of progressiveness. Stick around for a few days after the event to visit the island, perhaps through one of Pink Iceland's gay tours.
Where to Stay: Room with a View, Rey Apartments (both are gay owned properties in central Reykjavik) or or misterb&b.
Website for more info: Rainbow Reykjavik
Gay Mardi Gras Sydney
Just because it's winter now doesn't mean it's not summer somewhere. Have you forgotten that  12% of the world's population actually lives in the southern Hemisphere? Most notably, Sydney holds its annual gay pride festival or Gay Mardi Gras Sydney every February. Australia's largest gay pride event, Gay Mardi Gras in Sydney has been going on for 4 decades and attracts a crowd of over 300,000 people.
When: February/March
What to Expect: February is the peak of summer in Australia so expect warm temperatures and a huge crowd. People travel from all over the world for this event including the popular Fair Day in Victoria park with 70,000 attendees, musical performances, drag shows, food and entertainment as well as the famous Harbor party with world class DJ's and performers – a must-attend event for your gay Mardi Gras experience.
What's Unique: This event is a big production and often draws big performers like Kylie Minogue, RuPaul and Swedish sensation and Eurovision winner Loreen, just to name a few. Seeing these artists perform live at the Harbor Party surrounded by one of the world's most stunning harbors is a one-of-a-kind experience.
Why Go: Do you really need an excuse to visit Australia? If this event itself is not enough to draw your attention, consider the pride as an excuse to visit Sydney. With the iconic opera house, Sydney Harbor and stunning beaches, it's the perfect winter-turned-into-summer vacation spot.
Where to Stay: Governors on Fitzroy B&B, Kirketon Hotel, Vibe Hotel Sydney, Y Hyde Park Hotel, Sydney Wattle Hotel or misterb&b.
Website for more info: Sydney Gay and Lesbian Mardi Gras
[divider_10px]
Have you ever attended a winter pride event? Which of these 5 events sounds the most exciting to you? Let us know in the comments below!
[divider_10px]