This post is also available in:

Español (Spanish)

This post was updated on February 2nd, 2020.
Spain is one of the best countries in Europe to experience nightlife and Madrid is undoubtedly the gay capital, with some of the best bars and night clubs in Europe. People often think that Barcelona is the gay capital of Spain but a comparison of the two cities' population and gay pride festival demonstrates the difference. Barcelona's gay pride week brings a crowd of just over 100,000 people while Madrid's Gay Pride (called "Madrid Orgullo") is the largest in Europe bringing 1.5 million people each year. Spain was also the 3rd country in the world to legalize same-sex marriage and you'll likewise find Madrid to be incredibly gay-friendly.  Public affection of same-sex couples is common throughout the entire city center, not just in the gay neighborhood.
Chueca is the center of the LGBT community in Madrid where you'll find the highest concentration of gay bars and night clubs. Chueca starts at Gran Via and runs north for 1km and it stretches east to west between Calle Hortaleza and Paseo de Recoletos. Drinking in local bars and cafeterias can be inexpensive in Madrid but gay bars and clubs are notoriously expensive.
The nightlife in Madrid starts late and goes until the sun comes up. Even after a year of living here, I am still amazed by how much energy people have in the city and how late they stay out. There's actually been several occasions where I have been invited to an "after party" starting a 7am and lasting until god knows how long, though I have yet to join one of these events!
Here's Your Gay Madrid Nightlife Guide with the Best Gay Bars and Clubs:
Bars aren't busy until midnight and night clubs called "discotecas" don't fill up until after 2am
Most clubs have a cover charge but your entrance usually includes a free drink called a "copa." A copa is simple mixed drink (gin & tonic, rum & coke, etc.) but not to be confused with a cocktail called "coctel." You can order a beer with your ticket but the best value is to take the copa and buy a beer later.
Expect to pay 5-6€ for a beer and 8-10€ for a mixed drink. Pre-drinking in your hotel or at a local bar beforehand is a good way to not lose all your money in one night.
Most gay bars and clubs are located in Chueca or at least within the city center, which means you can generally walk almost anywhere.
If you want to know where the biggest parties are, walk around Chueca on Calle Hortaleza or near Plaza Chueca. You'll see signs and flyers posted everywhere listing the parties for the coming weekend.
Some bars offer 2 x 1 drink specials. Sometimes you can split the two drinks with a friend while other times the offer is individual and you'll receive a voucher for your free second drink.
Spanish people don't always speak the best English. The bar staff or even door people might not know more than a few words of English so try to understand this and don't get frustrated. If you're in a bind, just find a local nearby who speaks English to help translate – there will be plenty!
Here's our list of the best Madrid gay bars – most are in or near the gay neighborhood in Madrid called Chueca
Gris – The upstairs space is long and narrow and the crowd is uncharacteristically friendly for Madrid. There is a lower level but it's often empty except on weekends. This bar attracts an alternative crowd. Some of the best drink prices you'll find in Chueca with 2 x 1 offer. Drink specials: 2 x 1 until 2:30am / Music type: alternative, electronic / Calle de San Marcos, 29
D'Mystic – This is a nice lounge in the heart of Chueca. You'll find sitting room here and it's a great place to go on a weeknight to have a chat with friends. The atmosphere is relaxed and the music's not too loud. This place starts to fill up on the weekends, especially after midnight as locals are starting to go out, waiting those last couple hours before heading to the dance club. Drink specials: none / Music type: pop / Calle Gravina, 5
La Kama – This is a great place to go before heading out to the gay club. The music is loud and the people are energetic. It's small and there's no dance floor but that doesn't stop people from dancing right next to the bar. The crowd is friendly here and it's a one of the better places to meet people. Drink specials: none / Music type: pop / Calle Gravina, 4
LL Bar – The drag show here is the main attraction. It starts each night between 11:30 and midnight. Arrive early for the drink special but don't be surprised if it's empty that early. This place gets a nice crowd for the show but starts to empty out afterwards. It's a fun place to start your night for an hour or so, especially if you like being heckled by the Spanish drag queens. You'll also find occasional strip shows on the weekends. Drink specials: 2 x 1 until 11:00 – individual only / Music type: pop / Calle de Pelayo, 11
Cazador – This is a relatively new bar in Madrid and it's where you'll find the hipsters. It's a small place and people tend to crowd onto the street. It's a good place for a couple drinks during the week or before heading out to dance. Drink specials: none / Music type: indie rock, alternative (usually low volume) / Calle Pozas, 7
BoyBerry – This is actually a gay cruising bar but we've had a few drinks here before and I actually like the atmosphere. The bar staff is cute, the drinks are cheap and you'll find special events throughout the week. You'll find a darkroom, free wi-fi and many other surprises downstairs.  Drink specials: none / Music type: pop / Calle Valverde, 3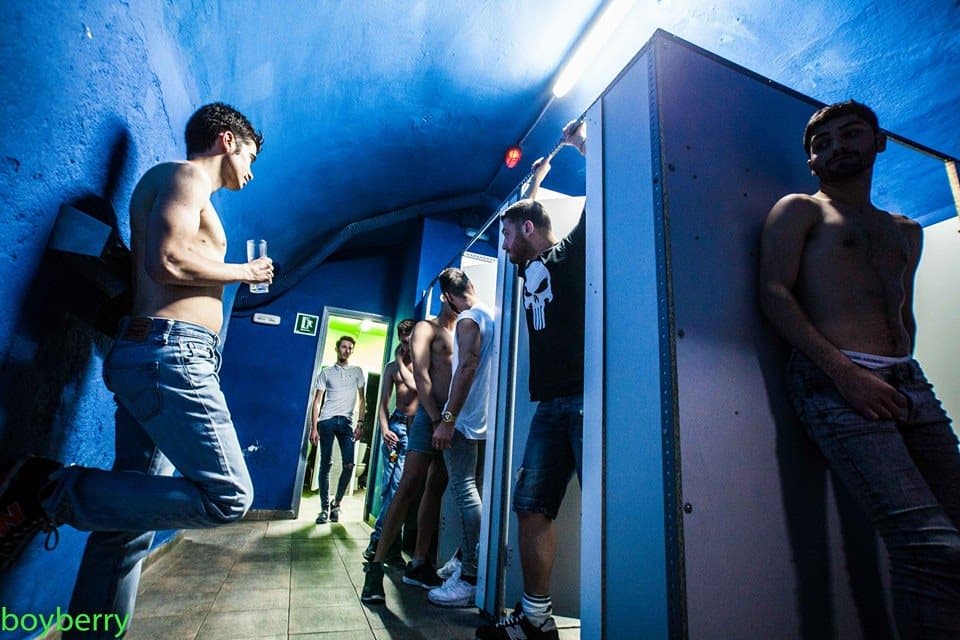 Black and White – We've been here just one time since moving to Madrid but people are always talking about it. Just be sure to watch for the rent boys. You'll find a lot of twinks here looking to charge you to take them home. Drink specials: none / Music type: pop / Calle de la Libertad, 34
Here's our list of the best gay clubs in Madrid – the attire is always casual. If it's summertime you'll find most guys in shorts and tanks…or even without tanks if you're lucky!
Delirio – This is a dance club with two separate levels with different dance floors and music, located in the heart of Chueca. If you're in Madrid during mid-week then this is your best bet. It's almost always full even from Sunday to Wednesday. You won't find anyone here until after 1am so don't waste your time earlier in the night. There's of usually a drag show that starts out the night sometime after midnight. The place gets packed by 3am. Drinks are moderately priced. Depending on the time of night you may be required to purchase a drink ticket prior to entry. Though not always obligatory, this will save you a few Euros compared to the prices at the bar. WhatsApp: None / Music type: pop / Calle Pelayo, 59
Boite – One of our favorite clubs in Madrid. Open layout and decent sized dance floor. This place draws a range of ages from mid 20's to mid 40's. The crowd is relaxed here but the guys tend to keep their shirts on. You'll sometimes find special events here with performances on stage. Music type: pop, dance / Calle Tetuan, 27
Kluster – this is a regular Saturday night party in Madrid with house and electronic dance music. A bit of a mixed crowd with circuit type boys, bears and daddy's. Crowd tends to be a bit older. No drags queens, virtually no girls, but a pretty friendly crowd.  Entrance is 15€. Music type: house, electronic / Calle Covarrubias, 42
Baila, Cariño – open Saturday nights at Sala Cool. This is one of our favorite gay clubs in Madrid.  Great first place to go to if you're visiting. There's a huge dance floor in the center with multi level bars surrounding it. Music type: pop, Top 40. Calle Isabel La Católica 6 
Gay Nightlife Tours
Rainbow Tours Madrid – If you're looking for a gay tours in Madrid, then we definitely recommend Rainbow Tours. We've done these tours in both Madrid and Barcelona and had a great time. They offer city tours as well as nightlife and pub crawl type tours with local gay guides that can answer any possible question about gay Madrid you could ever think of.
If you're visiting the city for the first time, there are plenty of gay friendly hotels and places to stay in Madrid. If you want a simple and inexpensive gay owned property check out either Hostal Puerta del Sol which has room rates from just 35€ per night for a private room. For a nicer and more modern option located right in the center of Chueca, check out the Oscar Hotel which is extremely popular among the gay crowd. Then of course, there's the gay hotel, Axel Hotel Madrid located in Atocha Street number 49, in the famous "Barrio de las Letras." They even have a pool and popular rooftop bar. There is even an LGBT-oriented booking site MisterBnB with gay owners who list their apartments in Madrid. You also have a good chance of finding a gay host on the more well-known site AirBnB if you choose an apartment located in Chueca.
Visitors to Spain may love Barcelona, but the best nightlife is in Madrid. You'll find amazing gay bars and gay clubs in and around Chueca offering a range of crowds and music. So if you're looking for a gay-friendly travel destination, look no further. Madrid has the best nightlife in Spain (and arguably Europe!) and you won't be disappointed – though you may lose a few hours of sleep!
Have you ever been to Madrid? Where's your favorite city to experience the nightlife? Let us know in the comments below!