One of the best ways to plan a trip is by turning a travel errand into a short getaway. While we were back in the United States recently, we had to go to Los Angeles, California to apply for a visa at the French consulate and decided to turn it into a mini-vacation. If we had more time and had saved up in advance, we could even have turned our 1-day errand into a weeklong road trip of the Pacific Coast. Of course, our trip was limited to a quick jaunt from Phoenix to LA and back so we decided to make the most of it.  Having plenty of sightseeing options, here's what you need to consider for planning your own holiday in the City of Angels.
Where To Stay
First things first, where to stay when visiting Los Angeles? Downtown may seem like an obvious option as it's a convenient location when visiting most large cities around the world. However, this may not the case for L.A. as most of downtown is more of a business district than tourist attraction. Hollywood is the next obvious choice because it's near some of the most popular attractions that the city has to offer. Santa Monica is another great location especially if you're looking to be close to the beach. For a convenient spot between Hollywood attractions and the beach consider Beverly Hills or West Hollywood.
Theme Parks
Where you decide to stay depends mostly on what you want to see – and there's plenty to do and see in Los Angeles! Theme parks are a great way to spend a day with family or a group of friends and the city has four major ones. Disneyland Resort (technically two theme parks consisting of Disneyland Park and Disney California Adventure) is located in Anaheim just southeast of Los Angeles. Then there's Knott's Berry Farm in  Buena Park and Six Flags Magic Mountain in Valencia which emphasize roller coasters and other various theme park rides. Lastly, Universal Studios Los Angeles offers a look into the movie studios of Hollywood. Choosing one of these options will easily take up an entire day of your getaway as you'll want to arrive early and get the most value out of your entry ticket.
Hollywood Attractions
To get a look at that infamous Hollywood sign, we suggest two options that you can tie into with other sights. Firstly, you can get a decent view of the sign from the Griffith Observatory which is worth a visit itself offering a planetarium, exhibits, telescopes, and a cafe. Entrance is free. There is also the option to hike closer to the sign from here following trails from the parking lot. The second option to obtain the glorified Hollywood sign photo op is to visit the Hollywood & Highland Center in central Hollywood. The design of the Center features the sign well in the distance. The Center is also worth a visit to check out its shops, restaurants, and most importantly, the Dolby Theatre where the Oscars take place. Stepping right outside the Center onto Hollywood Boulevard places you on the Hollywood Walk of Fame where you can begin your search for your favorite entertainment celebrity's star. Who did we hunt for? Dolly Parton of course!
Architecture/Art
With free admission, there's no reason to miss out on a visit to the Getty Center – though note that parking is $15. It possess an impressive collection of European and American art with beautiful architecture and gardens to enjoy. The Walt Disney Concert Hall is an architectural feast for your eyes as well. It was designed by Frank Gehry to be one of the most acoustically advanced concert halls worldwide. Guided tours and personal audio tours are offered regularly.
Beaches
Whether or not you're in L.A. during beach season shouldn't stop you from checking out the sandy shores. Santa Monica State Beach is one of the most popular spots boasting the Santa Monica Pier where you'll find an amusement park, restaurants, shops, an aquarium, and of course gorgeous ocean views. For a vibrant, colorful, people-watching beach just south of Santa Monica is Venice Beach where you'll want to take a stroll along the promenade, Ocean Front Walk. If you're looking to get a whole-body tan on your beach day, don't count on it as there are no legal nude beaches in the city. Just rock those tan lines!
Food/Drinks
Just about every sightseeing spot mentioned above is going to have plenty of dining options. But if you're looking for something a little more unique, we recommend taking advantage of L.A.'s ethnic neighborhoods. When we were craving Japanese food, we headed to Little Tokyo located downtown. In East Hollywood, there's Thai Town which is the only officially designated Thai neighborhood in the United States. Also consider Koreatown, located west of Downtown, it has one of the largest Korean populations outside of Korea. For drinks, we enjoyed Mohawk Bend in Echo Park which has an incredible 72 taps serving delicious Californian beers. Looking specifically for drink specials, we found a strip of bars and restaurants along Santa Monica Boulevard in West Hollywood that offered worthy weeknight food and drink discounts. They included Margarita Rocks, Fiesta Cantina, Mickey's and Eleven – yes, we visited all of these (and more) in one night.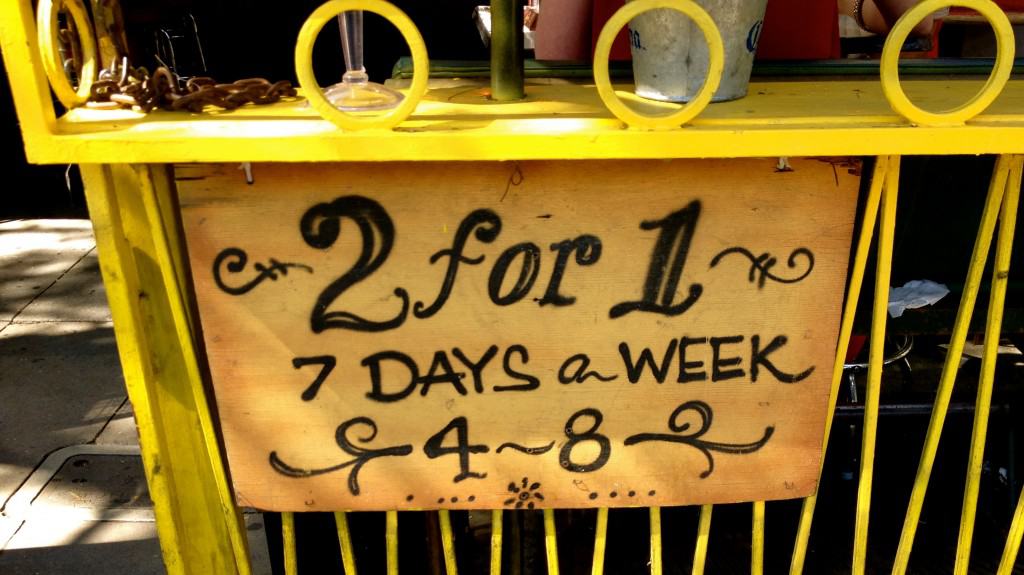 Planning
So how might you cram all these sights into one trip? Most likely you can't! But now that you know what Los Angeles has to offer, it's time to prioritize your top picks. Perhaps spend one day running around a theme park enjoying as many ride as possible and the next day relaxing on the beach working on that tan. Or spend half a morning visiting a museum and the afternoon hiking to the Hollywood sign from the Griffith Observatory. Another full day can be devoted to exploring the rest of Hollywood's various attractions. When creating your itinerary, do note that while Los Angeles has a decent public transit system of trains and buses, the city's attractions are spread out. To make the most of your trip, we recommend considering a rental car. We used our car most of the time to get around, but we also took advantage of buses and cabs for a small portion and found them reliable. Just know that however you decide to spend your time, the best part of any trip is designing it to your specific tastes!